This post is also available in: Spanish German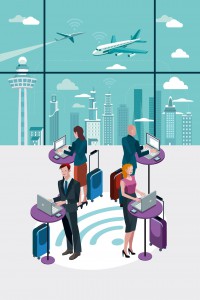 As of October 2015, AENA (Spanish Airport Authority) has launched an unlimited free Wi-Fi service for all passengers in twelve Spanish Airports, namely: Adolfo Suarez-Barajas, Barcelona-El Prat, Palma de Mallorca, Malaga, Vigo, Santiago de Compostela, La Coruna, Tenerife North, Tenerife South, Fuerteventura and Las Palmas, so far.
It is expected that the whole AENA's Spanish airports' network will gradually implement this service as well.
The download speed can reach up to 2 Mb, depending on the airport, the location and the network congestion. Okay, you might not be able to stream your favorite TV series' last episode, yet you definitely will be able to do the most basic things such as checking your e-mail inbox, get to know what your friends are up to in Facebook or chop it up with Whatsapp. Best part of it, it will provide passengers with an unlimited data usage service.
This announcement offers a huge improvement compared to the free 30-minute trial that used to be offered. For the record, this service was used by 8 million passengers during 2014.
For those passengers who wish to have a faster speed, they may want to contract the Premium Service, with a speed ranging from 3 to 10 Mb and three different options:
Basic for as low as 4,90 € (Tax included), which can be used for just one device and with a duration of 24 hours.
Family for as low as 9 € (Tax included), for four devices with a duration of 24 hours.
Monthly flat-rate for 15 € (Tax included)
In the particular case of the Palma de Mallorca Airport, where Record has a car rental office, this offer will be complemented with 22 connection points from computers and public stands for public use that allow payment with coins and that are spread all over the airport terminals. Some of the points located nearby the check-in counters also have printing service.
Living in such a connected world we are living, this type of measures is highly appreciated by the user and passengers. As a matter of fact, with these changes in the Wi-Fi service offered by AENA, Spain becomes a leading force regarding quality and timing of free internet service connection within the airport network.