This post is also available in: Spanish German
We just love Girona, and that is why we are going to dedicate two post on this blog to some of the charming villages of this Catalonian province.
Today, we are going to focus on a village selection off the coast but yet, with a whole lot to offer; your perfect getaway in the fall. This is part I of the Charming Villages in Girona compilation.
BESALÚ, COMARCA DE LA GARROTXA
The very first villaje we want you to know is Besalu. This village is located right in the middle of the route we are here suggesting. This little village from the Garrotxa's region, declared National Historic Complex in 1966, has us especially mesmerized by its castle-fortress—the current village was built around this construction, as a matter of fact. Apart from crossing its impressive fortified bridge, we do also recommend you to pay a visit to the Monasterio de Sant Pere and the ancient Jewish baths.

PERATALLADA, BAIX EMPORDÀ
If we head towards the coast, just 30 kilometers east Girona, we find Peratallada, which is located nearby the villages of Vulpellac and Fontena—all these villages form the municipality of Forallac. This village is, without a speck of a doubt, along with Besalu, one of the most genuine medieval villages of the whole Girona province. We are telling you, this is worth paying a visit and taking the time to stroll around the old part of town. Please, pay attention to the wonderfully-preserved buildings and ribbed vaults, since while you are walking around the Plaza del Castillo or Plaza de les Voltes—you will feel like you have traveled back to the Middle Ages.
MONELLS, BAIX EMPORDÀ
Just 20 minutes away from Peratallada, we find Monells, a village that is back on the touristic spotlight since the movie "Ocho apellidos catalanes" was shot there. This charming village of Girona has its own place at the podium of the most beautiful villages of Catalonia. Again, we truly recommend you to walk around its streets and observe the architecture in order to feel the medieval spirit that this place once had. It is a mandatory visit the plaza central—decked out with its impressive porticos and the Iglesia de San Ginés. If you happen to have some spare time left, we suggest you to visit the Monasterio de San Miguel of the neighbor village, Cuilles—located just five minutes away by car.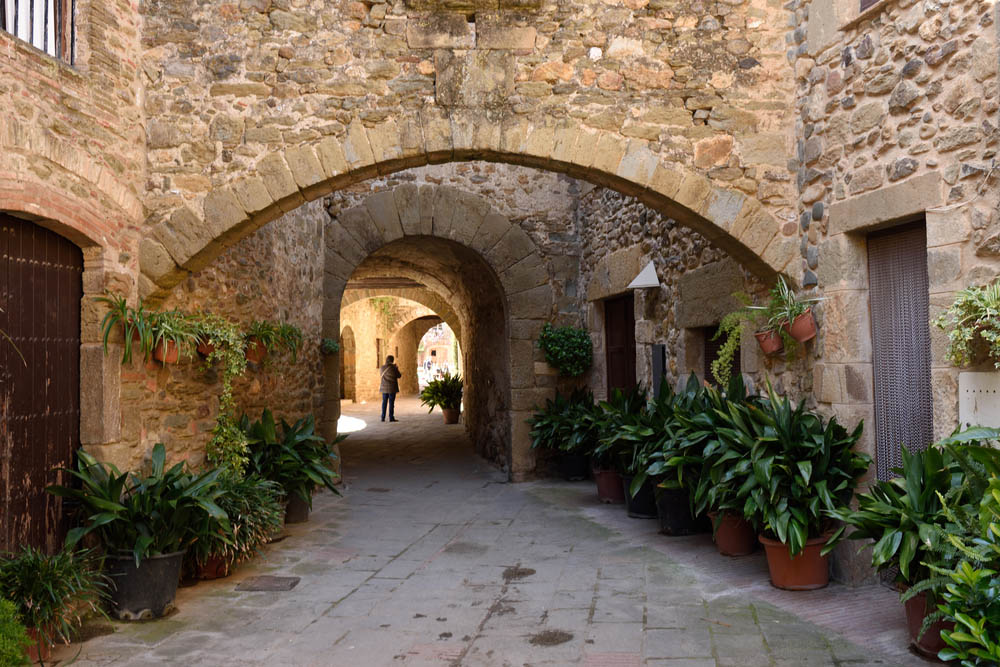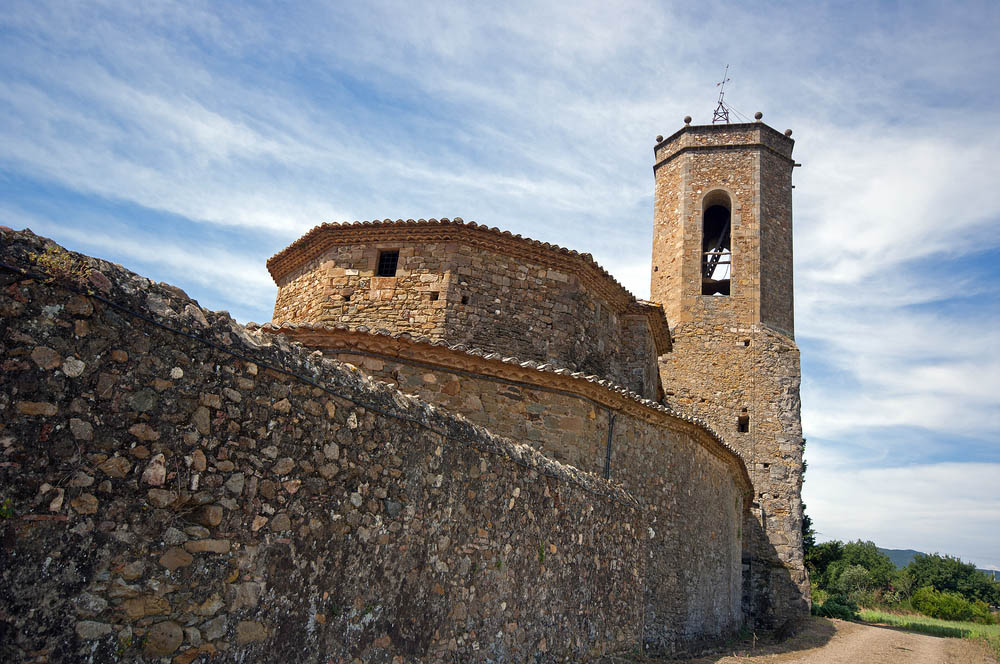 MADREMANYA, PÚBOL I PERA
Before heading towards northeast to visit the remaining charming villages of Girona included in this route, we would love for you to also visit these other small villages between the region of Girones and Baix Emporda. Madremanya, Pubol I Pera are places full of charm with amazing views and accessible trails that invite you to get away, discover its walled streets and the history that surrounds them. As an interesting fact, we would like to point out that Pubol forms the "Dalinian triangle" along with Figueres and Cadaques for having the castles designed by Dalí for his wife Gala.
 CASTELLFOLLIT DE LA ROCA, LA GARROTXA
We are getting far away from in order to head over to one of the charming villages of Girona we like the most in this route, Castellfollit de la Roca. With a population or nearly 1000 people and less than 1 square kilometer of surface—it is the second smallest in the Catalonia community. Furthermore, this village also belongs to the spectacular Parque Natural de la Zona Volcánica de la Garrotxa, which is an excellent example of the Spanish volcanic terrain. Due to its cliff shapes, the views from the distance are worth your while for sure, hence we do suggest you to stop by and contemplate it before we go deep into it. Also, we recommend you to get to the top part of the bell tower and enjoy the jaw-dropping views; of course you do have to walk around the streets and get a good feel of the medieval essence of Girona.

SANTA PAU, LA GARROTXA
We are saying goodbye to Castellfollit to head over to Santa Pau, another charming village of Girona also located in the Parque Natural de la zona volcánica de Garrotxa, just 18 kilometers away south. This village is also known for its amazing architecture, somerewhere in between Gothic and Renaissance styles. It stands out its porticoed square and its impressive castle-fortress. We suggest you to take your time, discover the stories told by its buildings and the inscriptions on its walls.
BEGET, ALTA GARROTXA
Our route comes to an end in the Alta Garrocha, in Beget. Bathed by the River Llierca, this charming village of Girona was declared of Cultural Interest, so it can very well be considered—as a whole—a historic monument of great beauty. We would like to stand out the two bridges that cross the river and the Iglesia de Sant Cristofor de Beget, of Romanesque style.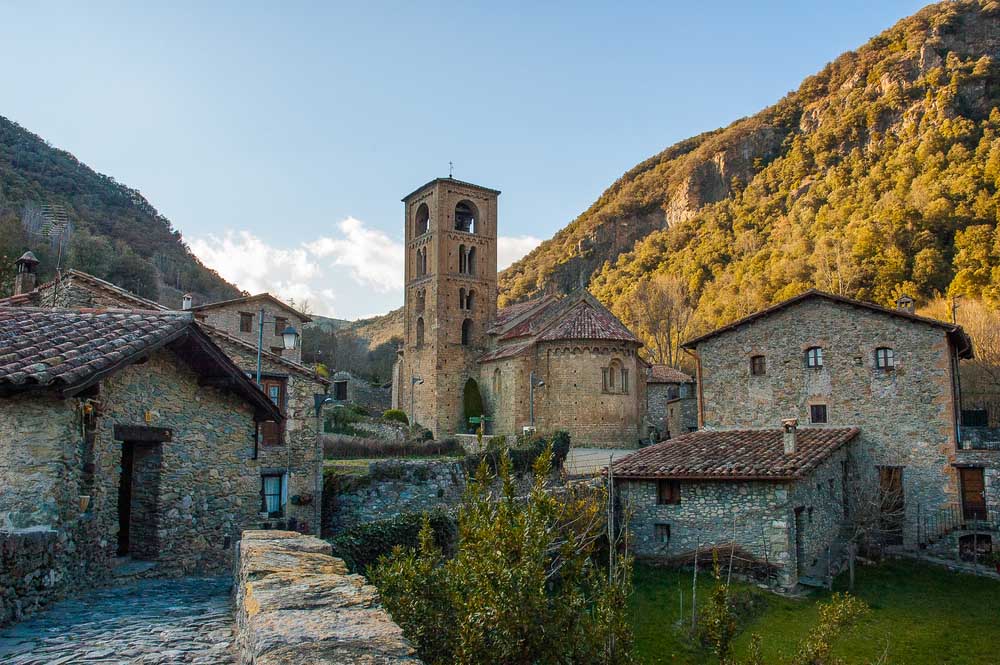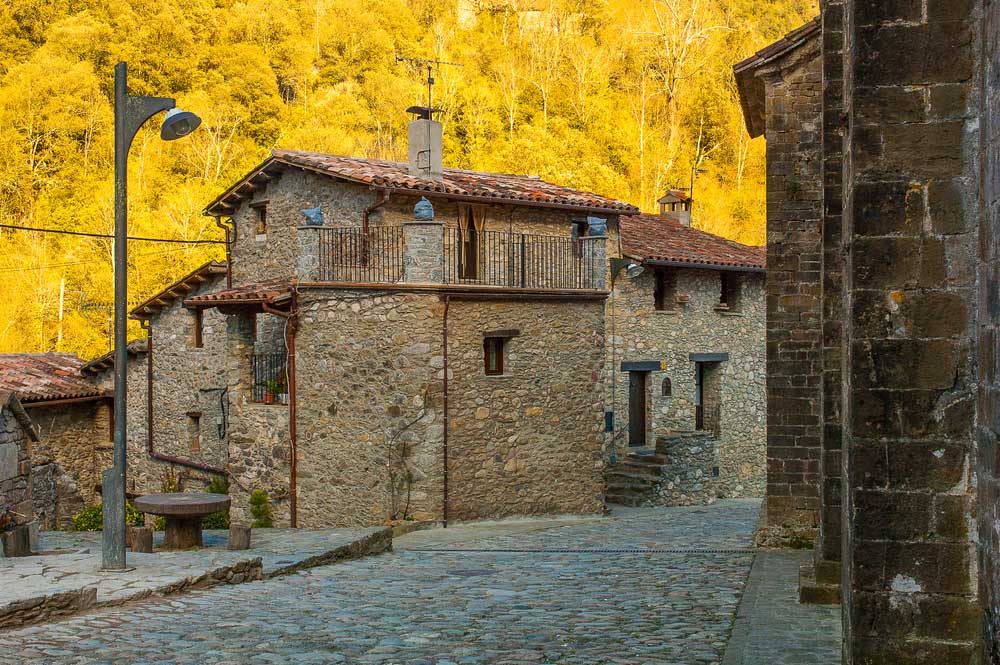 We do hope you have enjoyed this route we are proposing here, the charming villages of Girona. If you think we have left out any other village, please let us know in the comment section.
Guardar