This post is also available in: Spanish German
Where to eat on the road in Spain?
Stopping by at a restaurant while on a road trip becomes a challenge often times. You cannot help thinking about getting low-quality junk food such as a dried-out omelet, croquettes that took a few one-way trips to the microwave or even a tapa of ham that was sliced with the shack's owner's teeth instead of the knife.
In order to stay away from all that drama, you should do your homework and make sure you know which road restaurant you will spend your money on before the road trip begins.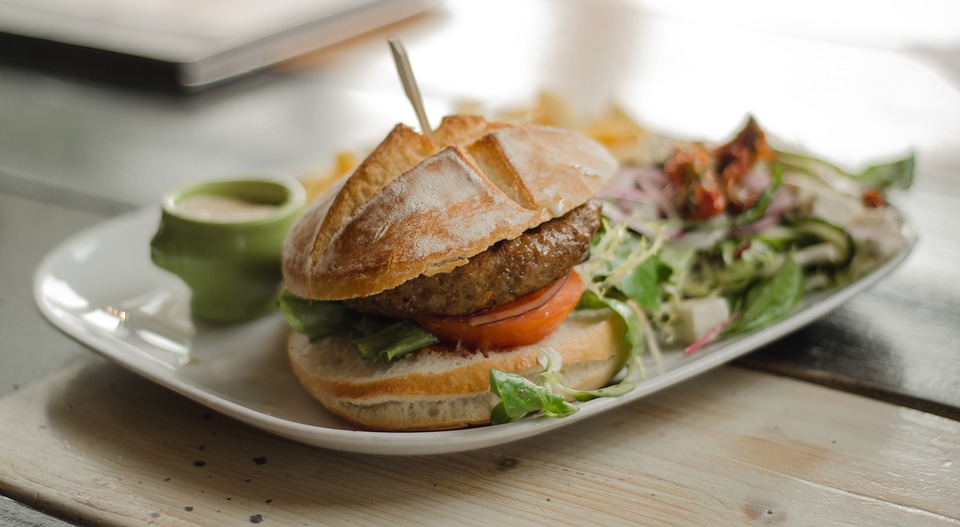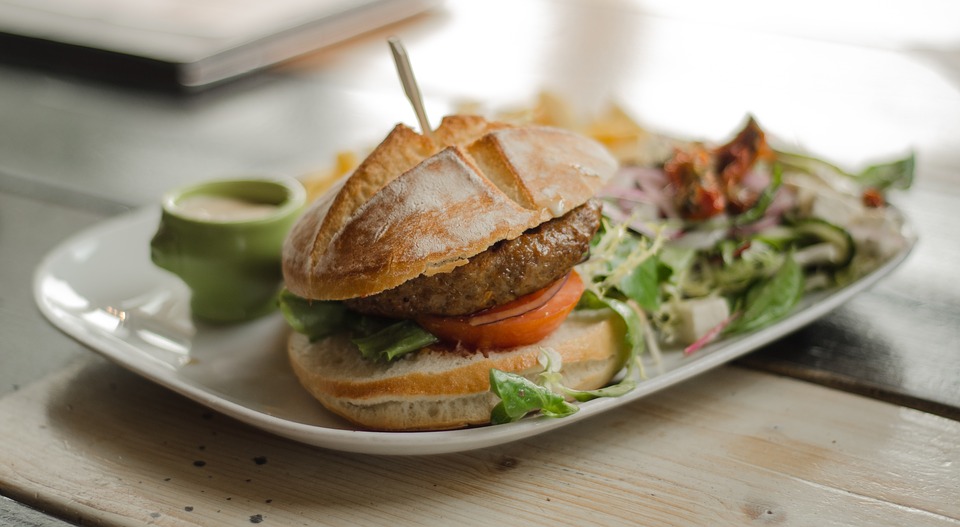 If you really want your trip to be part of your vacation, with a visit at a road restaurant that makes you enjoy and worth reminiscing, we suggest the following list of road restaurants and bars.
A1 Restaurants. Eating on the A1.

Área de Boceguillas
A1 Highway. Exit 115 (towards Madrid) and 118 (towards Burgos). 40560 Boceguillas, Segovia.
A reference road restaurant on the A1. Good service, nice decoration and good quality food: homemade breakfasts, a wide assortment of sandwiches with olive oil and lamp wood oven barbecues. In addition, it has a unique shop that looks like an antiques stand—just in case you want to leave the place with a souvenir.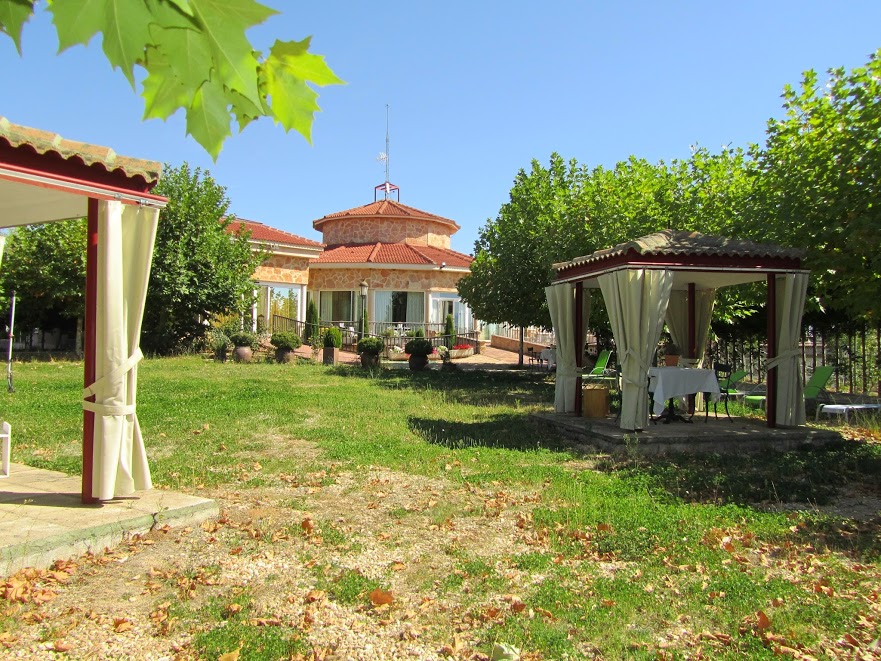 El Lagar de Milagros
N-1 Highway Madrid-Irun, exit km. 146. 09460 Milagros (Burgos)
A very cozy Castillian grill. It has a dining area, a tavern and a sampling bar. Its specialty is baby lamb roasted in a wood-fire. It is also known for the bacon rashers, the omelet and the ham tortilla. They also offer combined dishes and typical products from the area. They do have a good parking space and outdoor terrace—just ideal to lunch on the road.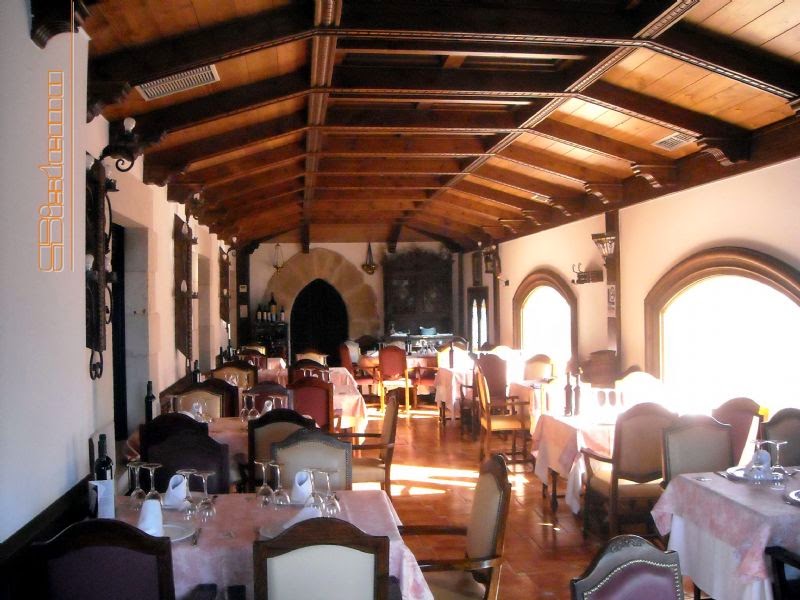 Las Campanas de Miliario
A1 Highway. Madrid-Irun road, km 135 (exits 133 or 137 towards the "El Miliario" rest area. Honrubia de la Cuesta (Segovia)
This is a medieval-looking restaurant that offers homemade food. It stands out the lamb, roasted pork, white beans with chorizo and black pudding, the artichoke or the free-range chicken. They do have a bar-cafeteria with terrace, where you can enjoy a delicious sandwich or a few tapas. The restaurant also offers vacant rooms from April through September so that travelers can rest in the middle of their road trips, as well as sightseeing around the surrounding area, if that is what you feel like doing.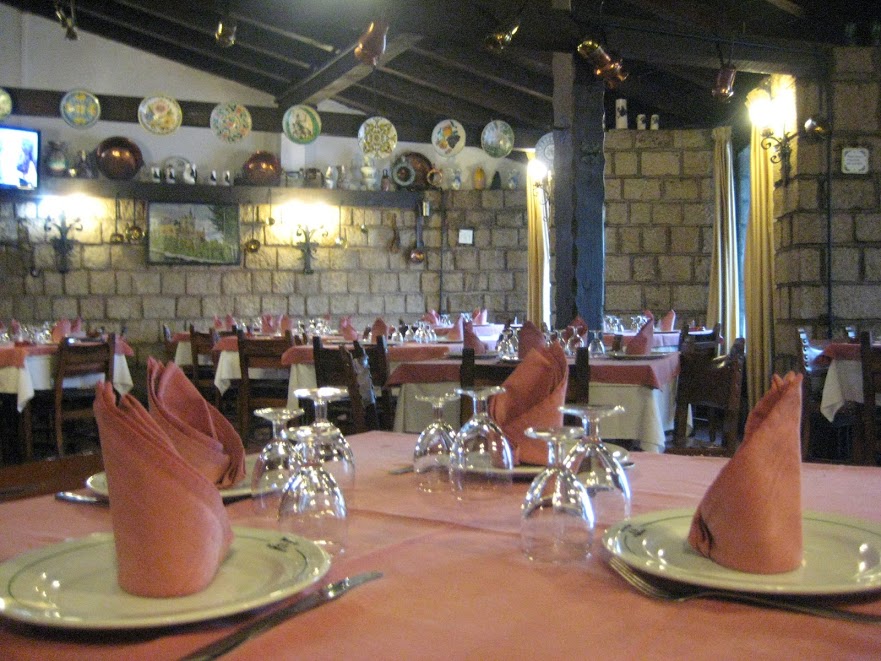 A2 Restaurants. Eating on the A2.
Área 103
A2 Highway, km 103, 19490 Almadrones (Guadalajara)
The old road restaurant Venta de Almadrones, with quite a history on its back, offers restaurants—one at every side of the A2. According to what they advertise in their website "we focus on high-quality raw materials that enable us to prepare delicious market food, as well as traditional recipes that are gently elaborated". They also have a bar–for those of you who are on the go, hotel, gas station, convenience store and a towing service and tires.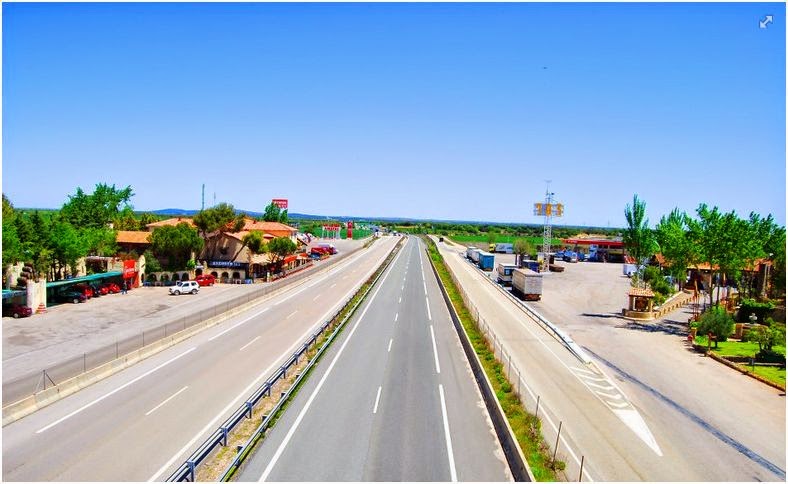 Mesón de Aragón
Valencia Road, km 15,600, 50430 María de Huerva, Zaragoza.
This is a homemade food road restaurant of high quality. They offer a value menu (with extra fees on holidays) with a wide variety of dishes and a very good quality. Apart from the restaurant, it also has a bar area and terrace. It is located right in the heart of a small village, but it is close to the freeway. The restaurant offers a private outdoor parking for the customer's convenience.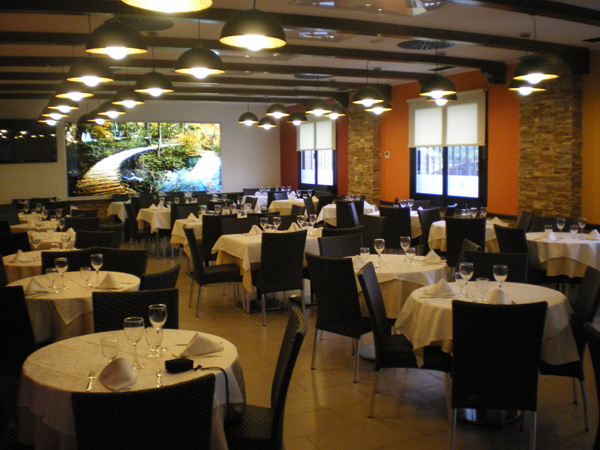 Hotel Duque de Medinaceli
Old N-II, km 150. 29 Madrid Avenue, 42240 Estacion de Medinaceli, Soria
Located halfway between Madrid and Zaragoza, and very close to Medinaceli, this is an ideal spot for sightseeing, as well as eating on the A2. The Hotel Duque is a family owned business that has hotel, restaurant and cafeteria in a stately Castilian house building. The restaurant, with modern and elegant decoration, stands out for the customer service and the food quality.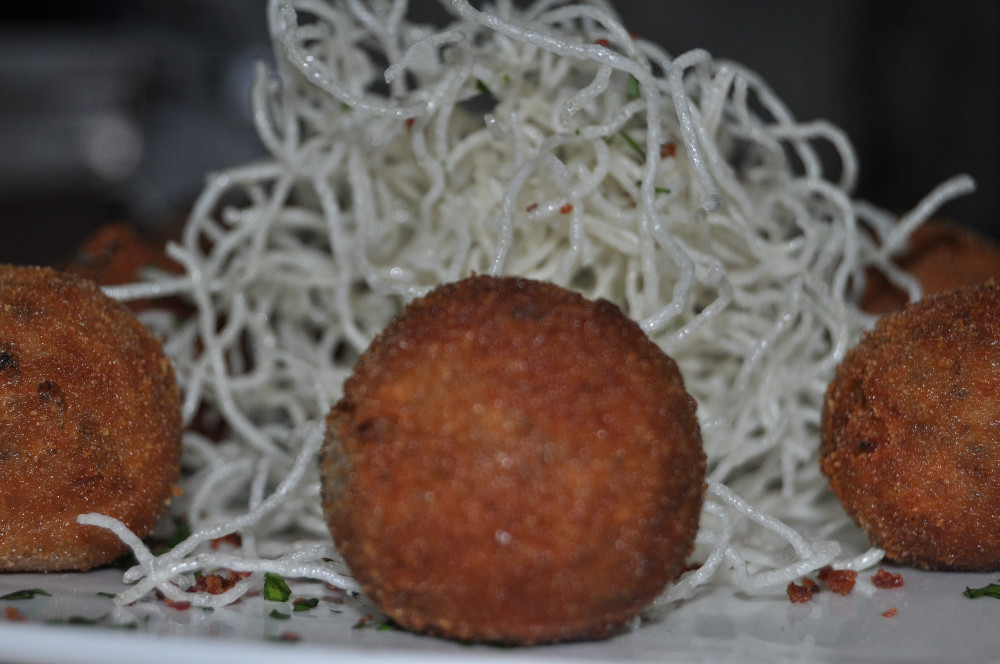 A3 Restaurants. Eating on the A3.
Resturante Marino
A3 Highway Madrid-Levante km. 168, 16730 Honrubia, Cuenca.
The restaurant Marino on the A3 is a classic for a gastronomic stop while on the road. It is a road restaurant with homemade and Manchego food. They have a large assortment of typical dishes and a daily value menu. They also have a cafeteria with sandwiches, grilled meat, combined plates, breakfasts, sweets and pastries. Last but not least, they offer spacious parking space.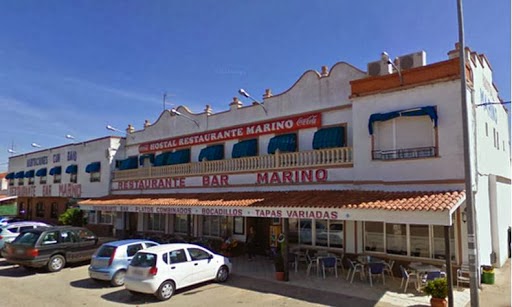 Finca La Estacada
Carretera Nacional 400, km 103. 16400 Tarancon, Cuenca.
Spacious and luminous place thanks to its vaults and large windows from where you can see an extensive vineyards plantation that surround the winery. They do have a "Q" certification, which is the Tourist Quality from the ICTE (Institute for the Spanish Tourist Quality in Spanish). Creative kitchen, aiming to make both your eyes and palate enjoy big time—taking as reference the Castilian-Manchego gastronomy and market cuisine.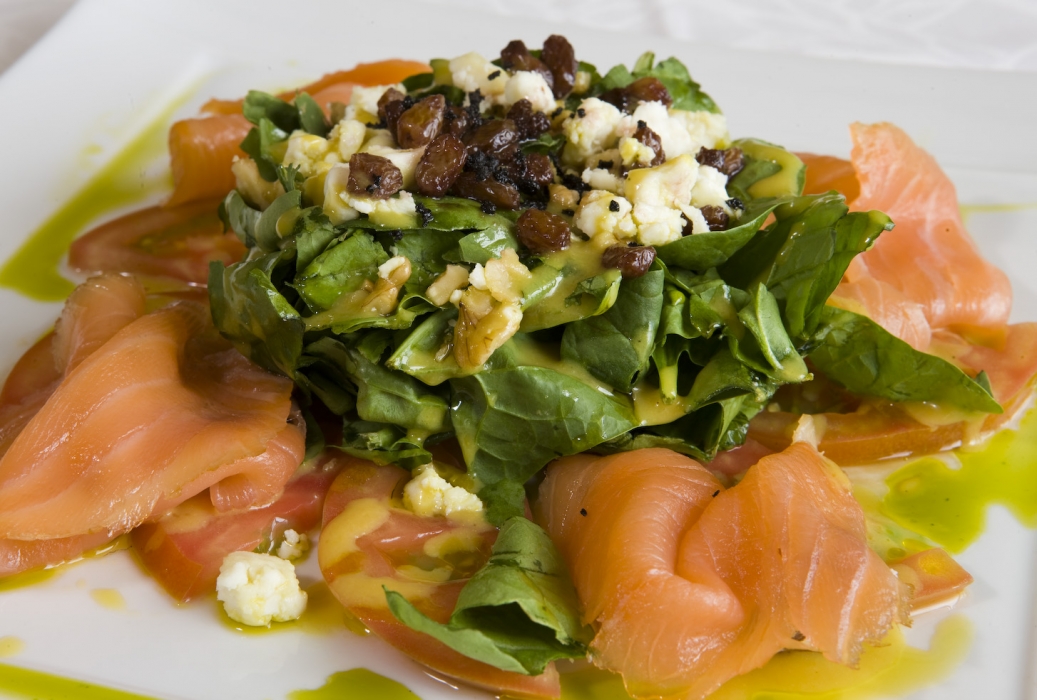 Venta San José
A3 Highway, km 124, Zafara de Zancara, Cuenca
Typical Manchego food, where the visitor can enjoy morteruelo (hot meat pate), delicious grilled meat and lamb, both shoulders and chops. The restaurant's walls are full of pictures of the celebrities who once were there. With all of those options, we can assure you that you will not regret paying them a visit.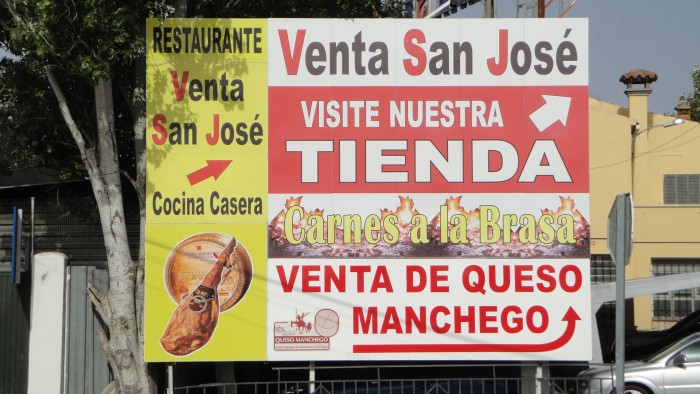 A4 Restaurants. Eating on the A4.
La Aguzadera
A4 Highway, km 197, 13300 Valdepenas, Cuidad Real
This road restaurant offers a menu with both traditional Manchego and international cuisines, depending on the season of the year. It offers elaborated dishes with fresh season products—as a curiosity, it has a swimming pool in the summertime that overlooks Valdepenas. As a result, visitors can both satisfy their appetite and make a splash at the pool.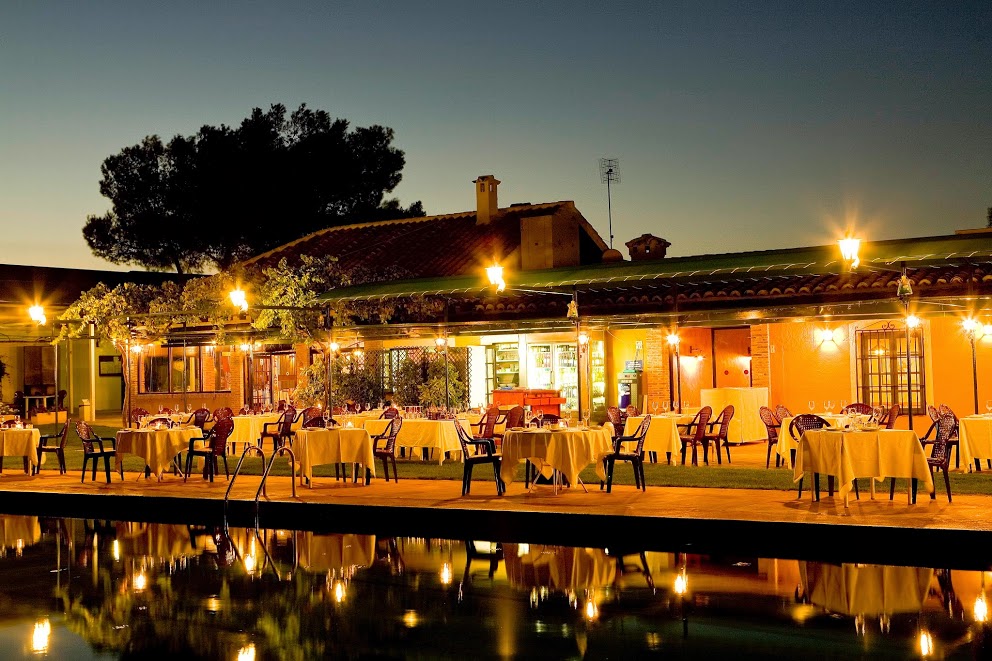 Hotel La Perdiz
A4 Highway, km 268, 23200 La Carolina, Jaen
Road restaurant with a rustic atmosphere, with a fireplace and wood beams. The offer their customers regional dishes and bush meat-based recipes. The make their own olive oil, straight from their olive trees right at the hotel. The hotel has a terrace that overlooks two swimming pools, surrounded with green areas and olive trees. No doubt about it, this sure is a great place to eat on the A4.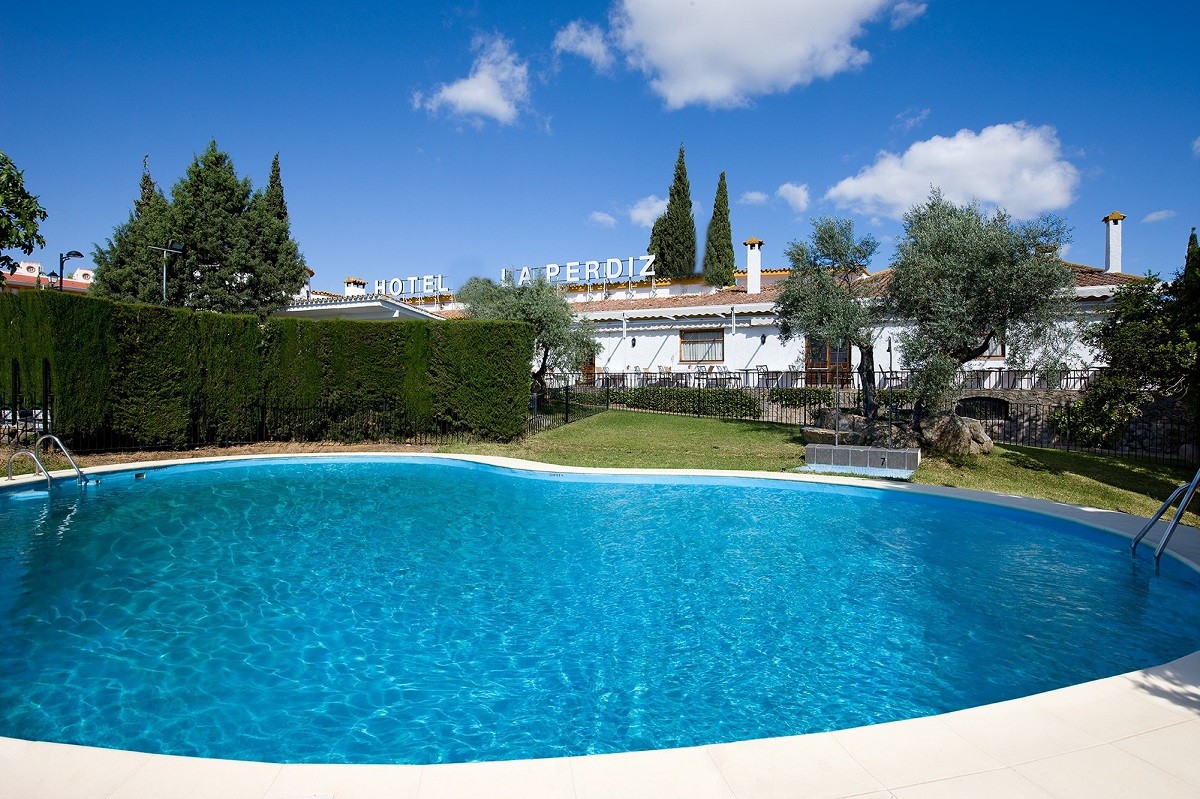 El Mesón de Despeñaperros
91 Andalucia Avenue, 23213 Santa Elena, Jaen
This is a classic amongst the road restaurants that is going through hard time due to the new highway layout in its path through Despenaperros. The construction of tunnels and viaducts has improved the former twists and turns of the road. Notwithstanding, if you are not in a hurry—which is by the way the advisable on the road—you can stop by this place and enjoy the views and the gastronomy, from the Mediterranean diet and specialties from the Jaen's gastronomy.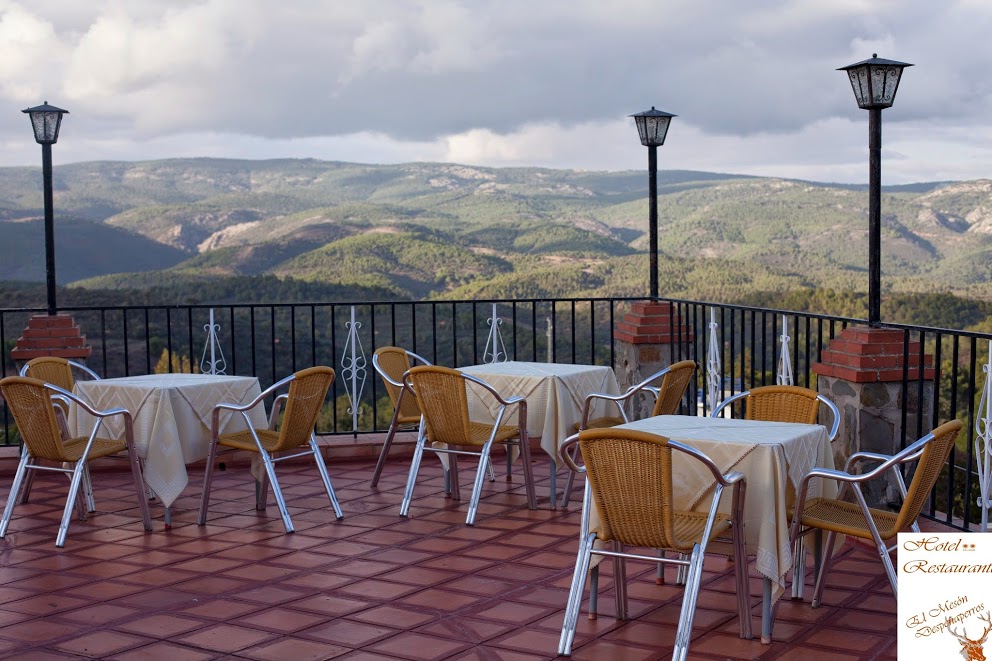 A5 Restaurants. Eating on the A5.
Parador de Oropesa
Plaza Palacio, 1, 45560 Oropesa, (Toledo)
Located in a beautiful building that used to be a manor house, formed by columns, colonnades and a charming patio. The whole place overlooks the Sierra de Gredos (mountain range) and the Oropesa Castle. This is a restaurant that offers traditional cuisine from Toledo with dishes the likes of kid, lamb, migas (breadcrumbs) and stewed partridge. This place certainly invites you to stop by and enjoy!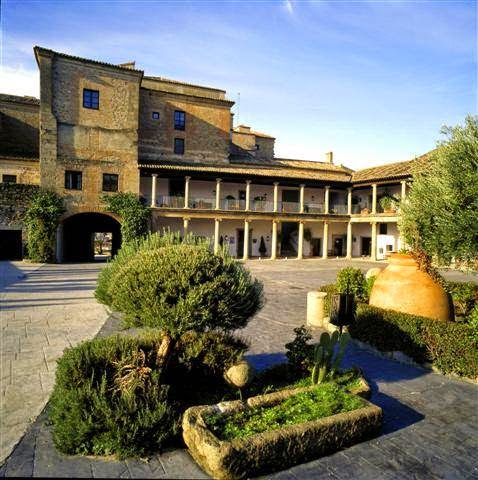 La Brasería de la Viña
A5 Highway, km. 245. 10200 Trujillo (Cáceres)
This restaurant is very well located, either for a quick stop before resuming the trip– since it is closed to the highway–or to stay there for a while and visit Trujillo—which is a few miles away from it. Trujillo has a prominent monumental complex, for the record. Great menu for a great gastronomic experience on the A5.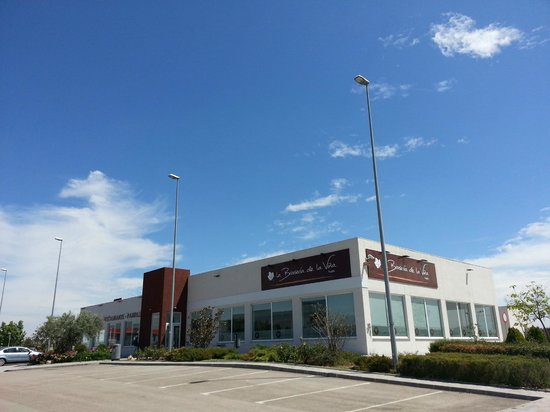 Harley-Davidson
Antigua Nacional V, km. 334. Mérida (Badajoz)
This is a motorbike theme service area with gas station, Harley-Davidson dealership, restaurant-cafeteria, a spacious terrace and a Play Park for children. The road restaurant is a unique space that seeks to join the 100 + years of Harley-Davidson with the best gastronomy of the region. They offer a wide variety of typical American specialties. If you love bikes, this is your place to stop by for a bite while on the road.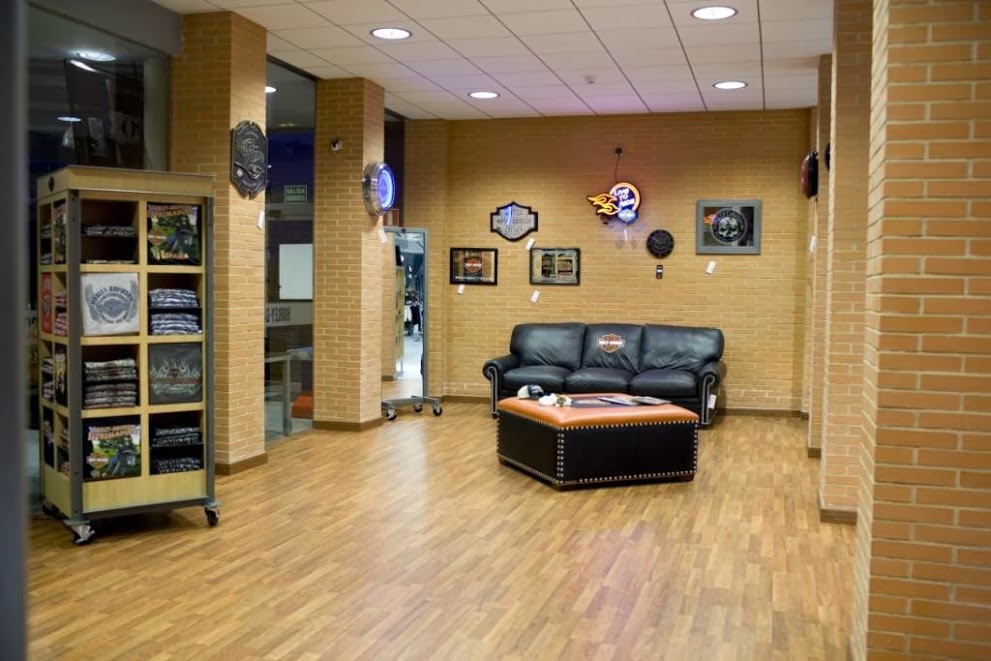 A6 Restaurants. Eating on the A6.
The list of road restaurants of La Coruna is pretty big, but we would like to suggest you all the following three:
Bodega El Capricho
Paraje de la Vega, s/n, 24767 Jiménez de Jamuz (León)
This is a homage-to-the-meat restaurant; located in an old winery. At El Capricho, the ox is the main actor, with selected meats from the Jose Gordon livestock—with slices from different parts of the ox. This is a holy place for meat lovers, just like it was cited in  Time and The Guardian.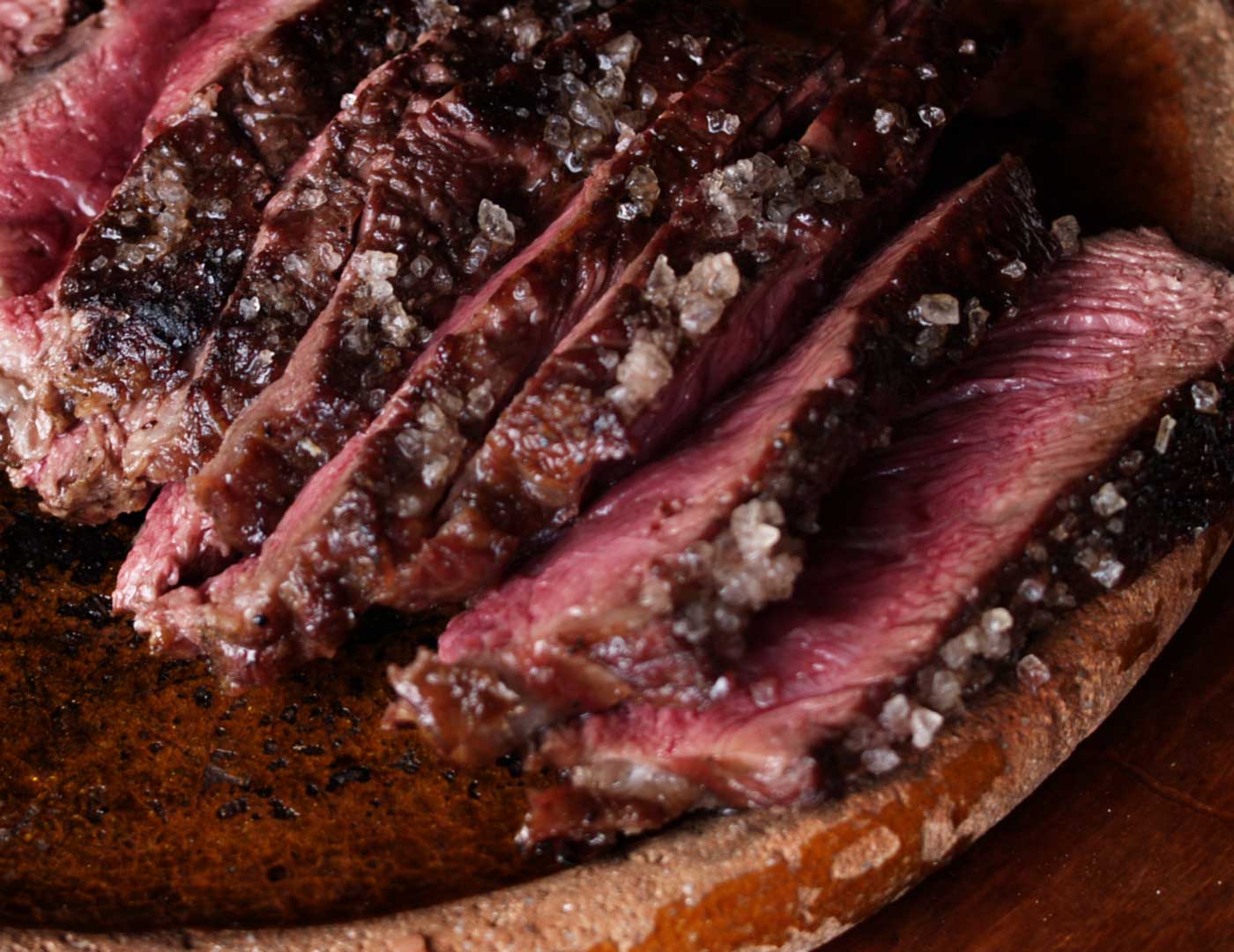 Restaurante El Ermitaño
N-630 Benavente towards Leon. 49600 Benavente (Zamora)
In a stately house, behind some old walls, there is a restaurant that won a Michelin Star prize. It cuisine is ruled by the principle of having the utmost respect for its Castilian culinary roots in order to evolve from that point on, but always with self-identity. This is hands down one of the best options to eat on the A6.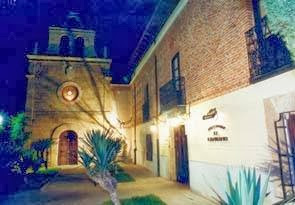 Restaurante Volvoreta
Antigua N-VI. Calle Pinar 2, 40410 San Rafael (Segovia)
Family owned road restaurant based on the traditional Castilian cuisine. They invest their efforts in fresh ingredients in order to serve seasoned dishes, traditional and market products. They have a bar area with an assortment of tapas and small plates, restaurant that overlooks the mountain range and outdoor terrace—ideal for summertime lunch and dinner. They also serve a good variety of very well-made menus.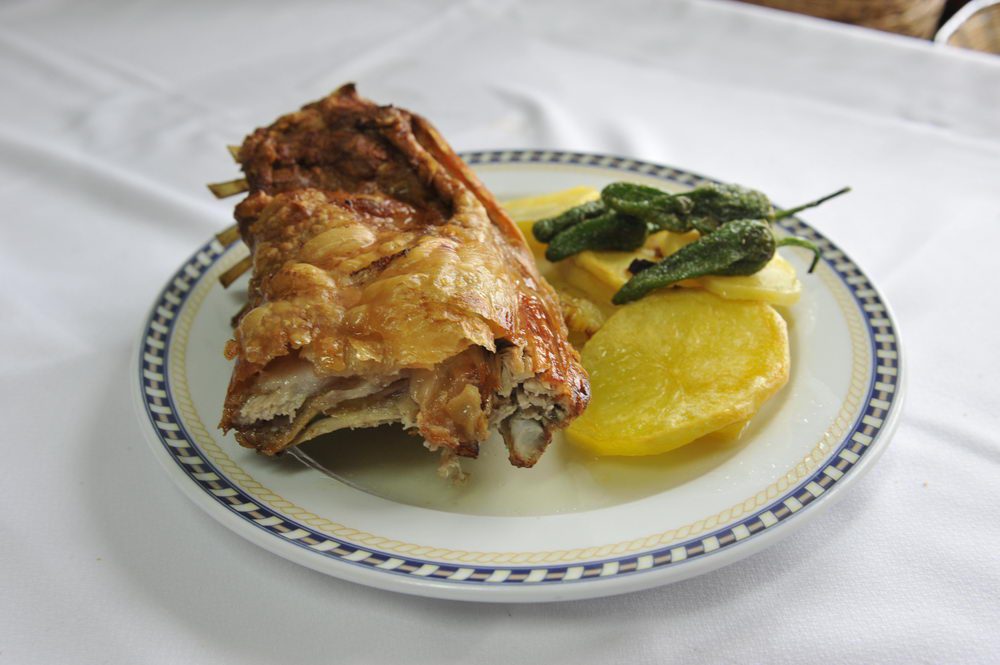 So far so delicious with our suggestions; everybody has their own taste. Which are your favorite road restaurants? Do you keep going to the same ones over and over?