This post is also available in: Spanish German
Caminito del Rey
http://www.caminitodelrey.info
The Caminito del Rey is a series of 2,9-kilometer walkways built in the walls of the Gaitanes gorge—close to the village El Chorro, which belongs to the municipality of Alora. Also, it has 4,8 kilometers of trails and forest tracks to enter/exit the area—with a total duration of 3 to 4 hours to complete de trip.
Torcal de Antequera
Natural wonder in Antequera formed by rocks of 150 million years of age. A natural setting where the wind erosion has created incredible shapes on the limestone rock. We find labyrinths, abysses, coves and other underground forms. A magic place and, at the same time, also a total strange one. Maybe this discretion has provided the Torcal de Antequera its charm.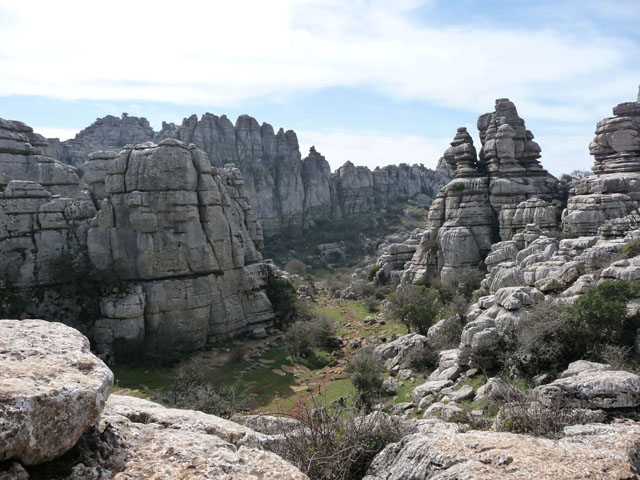 Frigiliana
We did talk about the village of Frigiliana when we included it in our list of the 14 charming villages of Spain to get lost, thanks to its narrow streets, of great beauty. Labeled as one of the whitewashed villages of Malaga, is a Historic-Artistic complex since 2014. Its old part of town, in a mint state of preservation, is the Muslim heritage left in this area.
Foto de Analbor
Bioparc of Fuengirola
http://www.bioparcfuengirola.es/
Fuengirola has in its Bioparc, a little pieace of Madagascar, South-East Asia and Equatorial Africa. This is a zoo park with a recreation of the natural habitat in order to enable the animals' development and the visitor's experience. So, both of them immerse between water and vegetation surrounded by baobabs, crocodiles from the Nile River, gorillas or, for instance, the serval, in a rather naturalized and integrating fashion.
The Dolmens of Antequera
http://www.museosdeandalucia.es/cultura/museos/CADA/
Antequera atestigua algunas de las primeras obras arquitectónicas que levantó el hombre en la Edad de Bronce: el Dolmen de la Cueva de Menga, el Dolmen de Viera y el tholos del Romeral, formando el conjunto arqueológico de los Dólmenes de Antequera. Para llegar a ellos, hay que tener en cuenta que el Dolmen de Menga y el de Viera se encuentran en la misma área (en Avda. de Málaga nº 1), y el Dolmen del Romeral más al sur (en Cerro Romeral. Antigua CN-232 con dirección a Córdoba).
2016 Spring paths
www.gransendademalaga.es/en/
During the months April and May 2016, the Local Government of Malaga launches a program of springtime interpretative visits through the Great Path of Malaga. It consists of a series of guided paths focused on the nature and hiking lovers. The paths will be held on a daily basis and will be celebrated on April, 3rd, 17th and 24th as well as May 8th and 22nd. There is also a two-day path that will be held on April 2nd, 16th and 23rd, as well as May 7th and 21st. It is mandatory to register in advance, yet the registration is for free.