This post is also available in: Spanish German
Sa Calobra and Torrent de Pareis
This is just a classic excursion in Mallorca: the Paraje de Sa Calobra and The Torrent de Pareis, in the heart of Tramontana Mountain Range. The Torrent de Pareis is a three-kilometer canyon with 200-meter vertical walls that are eroded by the action of torrential rains on the calcareous rock throughout thousands of years. The area is insane and its natural mouth is Sa Calobra—a rounded-edge cove right between two mountains that are just jaw-dropping.
Deià
The municipality of Deia, included in our list of charming villages of Spain, is located in the Balearic Islands and it is a small village of Mallorca found in a valley in the Tramuntana Mountain Range and very close to other important villages of Mallorca such as Bunyola, Soller or Valldemossa. Deia has a five-kilometer coast and has a large variety of activities for the visitor such as on-foot excursions in the nature, visits to the different cultural centers—it stands out the archeological museum, located in an old mill.
Arab baths of Mallorca
One of the few vestiges that are still preserved without restoration of the Madina Mayurqa (the current Palma de Mallorca in the Muslims era) is the Arab Baths. You will find the Arab Baths in the gardens of Can Fontirroig, on the 7 of Can Serra Palma Street.
Sa Dragonera and its "dragons"
The Island of Sa Dragonera is a little Balearic Paradise. This is an islet located west the island of Mallorca and almost attached to it. Geologically-wise is a continuation of the Tramuntana Mountain Range—separated by just 800 meters of Mediterranean Sea waters and of high ecological value and declared Natural Park in 1995. Birds, terrestrial fauna and endemic flora, like the steppe joana or the gatell, find in this islet a place to live, especially the so-called "dragonets", those are actually lizards also known as "sargantanas". Technically speaking, we are referring to the Lilford lizard.
The Castle of Bellver
The Castle of Bellver in Palma de Mallorca is located atop of hill, three kilometers away from the city. Jaime II ordered the construction of this castle as a fortress and royal residency. It stands out its circular structure, unique in Spain, which overlooks the Palma Bay.
Medieval walled enclosure of Alcudia
Alcudia is a beautiful village that takes the visitor back to Mallorca in the Middle Ages. Its walls, built in the 14th century in light of the dangers of its strategic situation, protect it medieval enclosure that still preserves a parochial church, a Roman theater and two of the original gates of the city. We strongly suggest you to walk around the village following the Camino de Ronda, which is the interior street of the walls of Alcudia.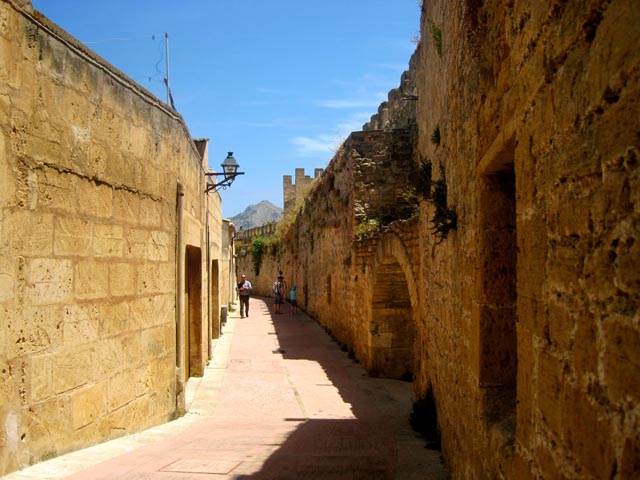 Foto de Suzy Guese