This post is also available in: Spanish German
"Give him alms, woman, for there is nothing sadder in life than being blind in Granada" We start off with these verses of Francisco de Icaza, engraved in the Torre de la Polvora at the Alcazaba (The Tower of Gunpowder in English). As soon as we hear the word Granada, we get images in our mind of the most beautiful landscapes right away.
Sadly enough, our vacation time is not as long as we all would like it to be. So, for those of you who do not have the opportunity to spend a lot of time in this beautiful city, we suggest you here a weekend plan for all the must-see places in Granada. The list is accompanied with some other interesting tips you should take into account.
We are hoping this proves to be useful for you!
1. The Alhambra of Granada and Generalife
The Alhambra is a palace complex located in a unique position that overlooks the whole city and the Granada's meadow. The complex presumes to be a UNESCO World Heritage and Spain's most visited monument.
The name comes from the walls of reddish color ("ga'lat al-Hamra´"=Red Castle) and it is considered to have a Muslim origin. It was used as a military fortress since the 11th century, yet in the 13th century became the monarch's residence, as well as the Nasrid Kingdom Court of Granada. There are signs, however, that suggest that there were constructions prior to the arrival of the Muslims.
With the arrival of the Catholic Monarchs, at the end of the 15th century and up to the present time, the monument suffered a demolition of a large part of its architectonic complex by Carlos V—he wanted to build a castle with the same name. Also, there was a process of abandonment of its maintenance, as well as a period of French control in which a part of the fortress was blown up. A reparation, restoration and maintenance process started in the 19th century that continues to this day.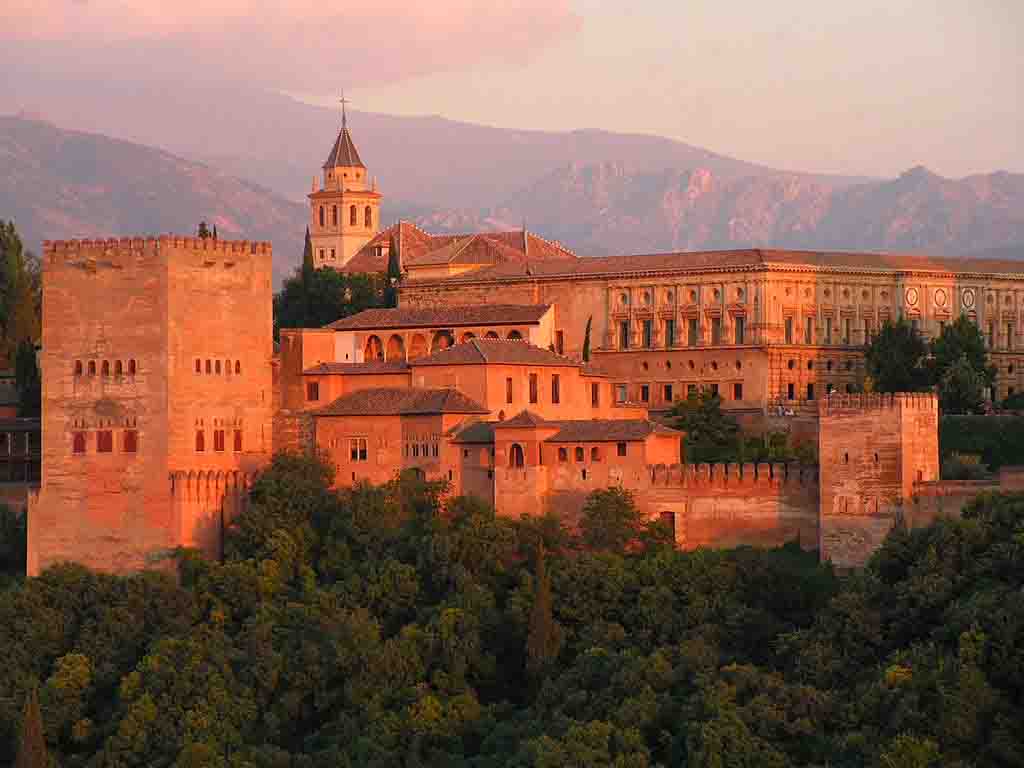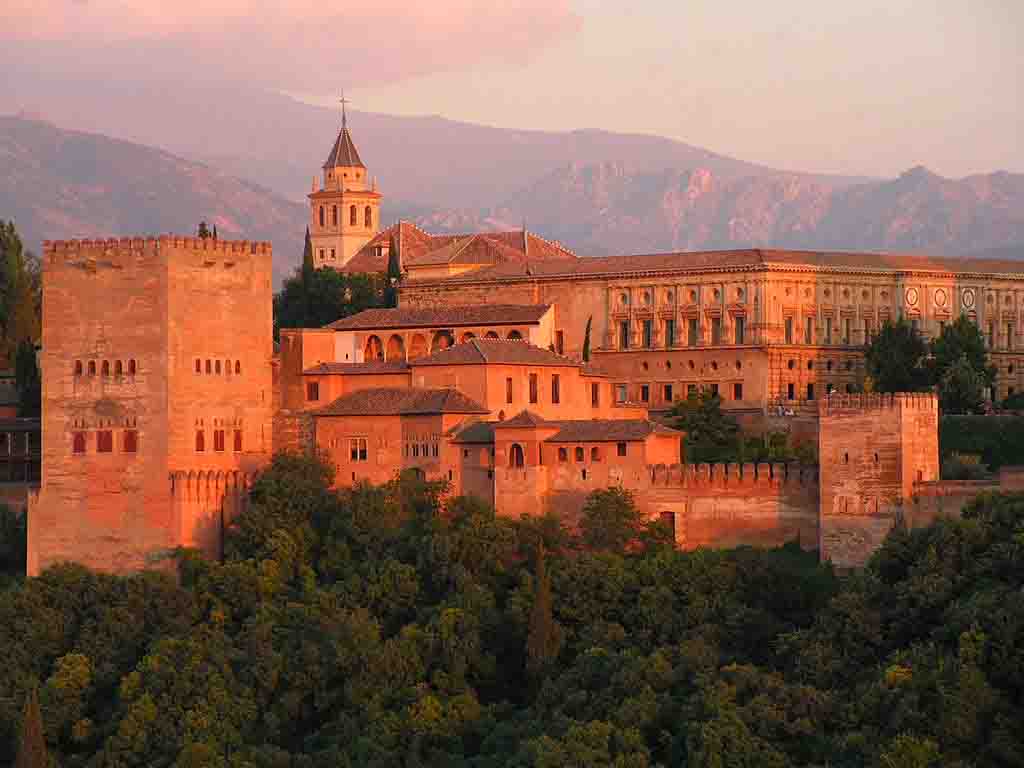 Tickets for the Alhambra
Visiting Granada and skipping the Alhambra is nothing but unforgivable. We suggest you not to procrastinate and get your tickets well in advance, otherwise you will be taking chances you might end up regretting—just avoid the "should've, could've, would've". The ticket gives you entrance for three different shifts, namely, morning, afternoon and evening. Besides, the tickets include a reservation for a visit to the Nasrid Palaces. Since there is a schedule for the different visits, you will have to organize the timing accordingly.
Do take into account that, at least, you will be three hours visiting the whole complex, yet you might stay a little longer if you get infatuated with the magic of the place. Also, there are also lots of pictures to be taken! In a nutshell, plan your visit in advance, do not hurry up and be sure to enjoy this one-of-a-kind place.
How to get to the Alhambra?
There are three ways to get to the Alhambra: on foot, by public transportation or by car..
On foot would be from Plaza Nueva and starting from Cuesta de Gomerez. This is actually a pretty interesting historic and artistic wise; besides we will be surrounded by nature. Just take into account that this is a 1.150-meter uphill stroll—no joke.
The C3 urban bus line will take you to the Alhambra after a stop at las Taquillas-Generalife.
Also, you can get there with a taxi Radio Taxi telephone number: +34-958-280-654) or your own vehicle. In the event you drive your vehicle, just know that there is a little detour by the city's south ring road, heading Sierra Nevada—the reason being is that private cars cannot access the complex from downtown Granada. You may park your vehicle at a nearby monitored parking lot, close to the ticket office.
Our suggestion is that you go on foot, enjoying a pleasant stroll while you burn the extra calories from the delicious tapas you will be gobbling up.
2. Albaicín
The neighborhood of Albaicín or Albayzín, also declared World Heritage by UNESCO, is one of the city of Granada's symbols. Its narrow alleys, its spectacular viewpoints facing the Alhambra, its cármenes (typical houses) and its cisterns (typical drinking water distribution system) provide the city with a unique personality and make it an ideal place to walk around admiring the Arab architecture from the Nasrid period, (which was an era of maximum splendor in this area. Everything is in a perfect harmonious combination with the traditional Andalucian architecture.
Be sure to grab your backpack and a big bottle of water before your start the visit to this neighborhood because it is located in a hill. If you go on a bus, you can save big walking distances, as well as the ascension. To be honest, it really is worth strolling the place around—do not be lazy!
As a reward for the effort, you may take a break at Plaza Aliatar and chill out on a bar terrace having a cold beer and a delicious tapa. You really do not want to miss the honey-flavored fried eggplant tapa!
3. Sacromonte
Sacromonte is the most flamenco neighborhood in the city of Granada. It is just a fascinating enclave that consists of a mountain full of rock-cut caves. Also, you will find underground peculiar houses which are part of the city's history. In recent years, many of these houses have become bars and restaurants where unique shows are held. It is unclear the origin of this neighborhood and that has led to an endless list of legends that we would rather not unveil here—you might as well talk to a local person and get the facts right.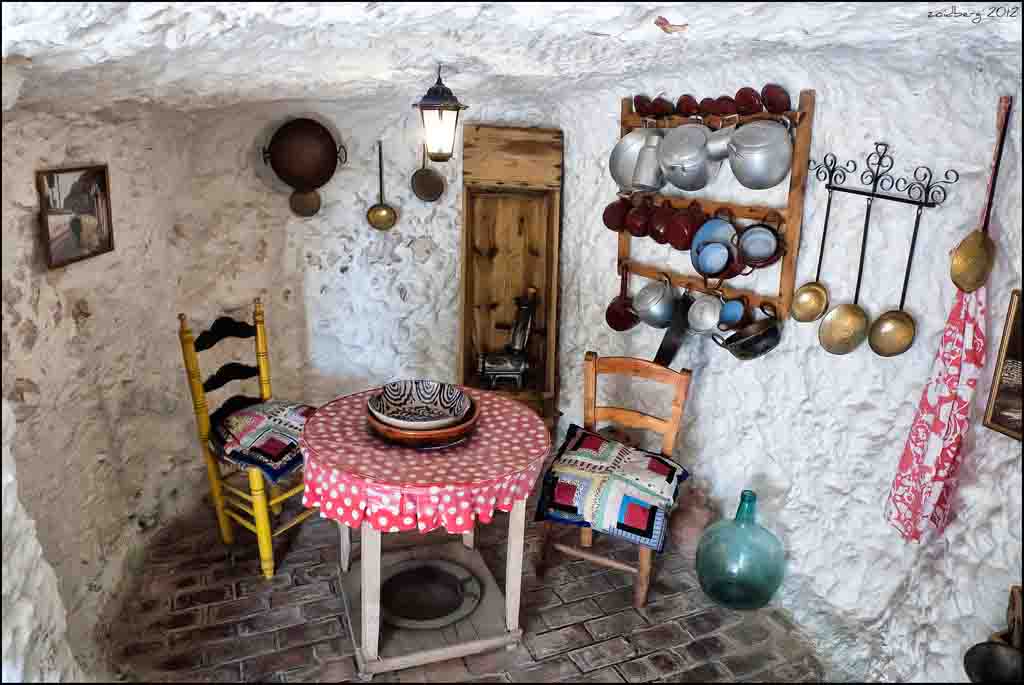 4. Paseo de los Tristes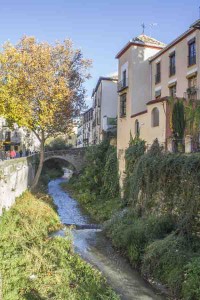 Located in between the Alhambra and the Albaicin, at the foot of both and by the Darro River, we find the Paseo de los Tristes. The street is so beautiful that the name does not do any justice whatsoever. Its name stems from the funeral processions that headed the cemetery in the past.
Your best bet is to visit this neighborhood either on your way to Albaicin and/or Sacromonte, or on your way back, since the ascension to both neighborhoods start at the end of this very street. Given that this is such a charming place, you will most likely be ready for refreshment and something to feed your hungry tummy. It is a pretty good plan, but be advised that this is not the cheapest area of Granada…
5. Kathedrale von Granada
The full name is The Metropolitan Holy Church Cathedral of the Incarnation of Granada. It is a Catholic temple, initially conceived of Gothic Style, which is also considered a very important Renaissance masterpiece where Baroque elements can also be spotted. One of the most notable elements is the Catholic Monarchs remains.
Let's get some tapas!
We are guessing that you might have heard it hundreds of times, and this is just another one–the city of Granada stands out for its tapas. In many bars, drinks accompany a generous amount of food at a low price. You eyes will be wide open for sure when you are in the presence of them.
We strongly suggest you to head to the Elvira Street for some exquisite tapas. At the beginning of the street, you may want to get your picture taken at the Puerta de Elvira (Elvira's Gate). It is needless to say that there are also many other places to get your tapas throughout the city. If you happen to be a heavy drinker, we dare to visit Tasca El Labrador and have some "labradores", which is a homemade drink named after the bar (maybe it was the other way around, though) Do not be fooled by how sweet it tastes. If you really like it, do not be ashamed to order a bottle to go.
It is hot! I want an ice cream!
Granada, as any other Andalucian city, stands out for its high temperatures. So, when the heat gets unbearable, be sure to head to Gran Vía and enter the Gran Vía and enter Heladería Los Italianos —they have, hands down, the best ice cream in the city of Granada. If you happen to be an indecisive person, we would recommend you to have the stracciatella or the cake of the house—you cannot go wrong with either one of them, trust us!
Speaking about sweets, you cannot leave Granada without eating some piononos. Actually, you should stick to one unless you want to exceed the appropriate caloric intake. Piononos are small pastries traditional in Santa Fe, a small town adjacent to the city of Granada. A pionono has two parts: a thin layer of pastry rolled into a cylinder, fermented with different kinds of syrup which give the pionono a sweet and pleasant texture, crowned with toasted cream. It is typically eaten in one or two bites and usually defined as a piece of heaven brought to the Earth.
Now it's time for some tea!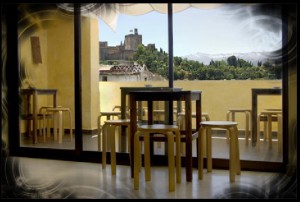 Of course, this is a city where the Arab Culture is extremely present. In the so-called Calle de las Teterías (Tea Street) you will not encounter any problem in quenching your thirst. If you have some spare Euros, you might want to pay a visit to the Arab craftwork market. This street is perpendicular to Elvira Street that we talked about earlier in the tapas section of this post.
We would like to highlight one tea shop in particular: tetería Ábaco Té. Hopefully, you will be able to squeeze in one of the small terraces in the upper floor–it has the best views of the Alhambra while enjoying your drink.
How about a drink?
For all of you, young people and all those who would like to enjoy the Granada's nightlife, we are proposing you to visit Pedro Antonio de Alarcón area. Just in case you are not the biggest indie fan, we suggest you a visit to Pub Peatón —it offers a very interesting music selection and can be the perfect place to take good pictures to be added to your Facebook wall later on. If you are planning on pulling an all-nighter, Vogue is the place for you. Warning: avoid this place if you are not into huge crowds, it can be overwhelming, to say the least.
Our proposals for a weekend in Granada have come to an end—just a great getaway with a huge downside: once you are there, you will not want to leave the city because it is way too easy to fall in love with it. You have been warned!