This post is also available in: Spanish German
We have recently learned that our two-grace hour's margin has been misunderstood by some of our customers. In order to make this clear, we are going to break down the way they work in this post.
The grace margin does NOT mean you can drop off your vehicle two hours after you said you were going to return it when you booked the rental. This two-hour grace margin has to do with the daily rate of your rental, as well as the grace time you get when you choose your return time in the booking checkout process before you get charged an extra rental day.
Record Go charges a rental day on a basis of a 24-hour period. We know this might sound more complicated that it actually is but it is just a 24-hour period between the pick-up and the drop-off time.
In other words, a 24-hour rental equals one rental day and a 48-hour rental equals a two-day rental.
Notwithstanding, every new 24-hour period, although it might not be complete, means we are adding one rental day to the booking. Therefore, a rental that starts at 10am any given day, and finishes at 2pm the following day, would be a 28-hour rental, therefore two-rental days.
Here is where our two-grace hour margin becomes meaningful. We give you up to two grace hours before you get charged for an extra day, as long as you specify it when you book the vehicle. A 25-hour rental (24 hours plus 1 hour) equals a two-day rental, yet thanks to our two-grace hours, we only charge you for one-day rental.
Nonetheless, this grace margin only applies to the very moment when you book the vehicle, which is the very moment when you decide the drop-off time. Once you have determined the drop-off time, you will have to return the vehicle before your rental agreement expires; otherwise you will incur a breach of contract.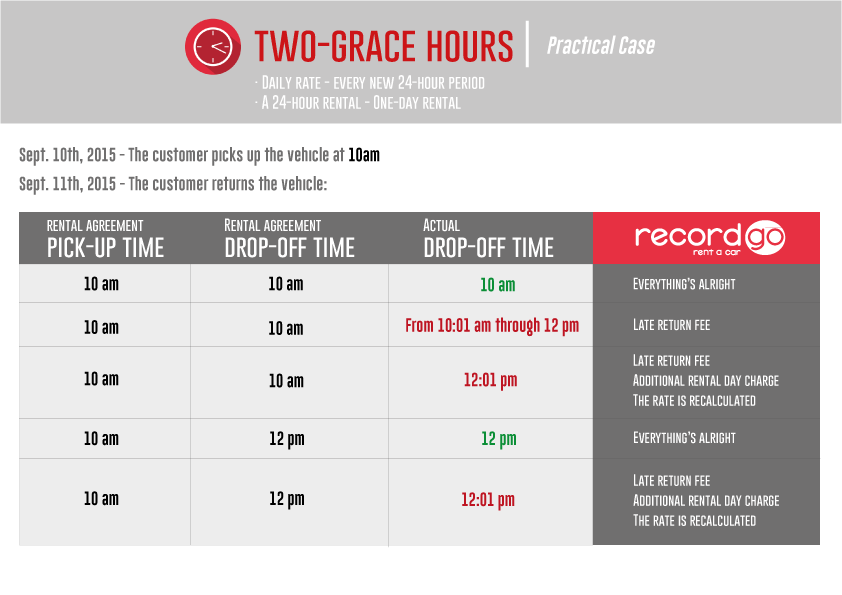 Let's see an example
Pick-up time in the rental agreement Sept. 10th, 2015 at 10am
Drop-off time in the rental agreement: Sept. 11th, 2015 at 10am
Actual drop-off time: Sept. 11th, 2015 at 11:30am
The customer is charged originally for one rental day. Since the customer ends up returning the vehicles later that stated in the rental agreement, he/she is charged a 40-euro late return fee; although he/she is not charged for an extra rental day since the actual drop-off time is within the two-grace hours.
Please, do take into account that, from 10am through 11:30am, the customer is illegally driving the vehicle since the rental agreement expired at 10am. This situation itself can cause the customer legal problems since he/she is driving without any insurance or cover. Therefore, this is a matter of legality more than Record Go trying to be difficult.
Nevertheless, if the customer commits to return the vehicle at 12pm when he/she books the rental, there will not be any sort of fee since this would be a one-day rental.
Let's see another example
Imagine the former customer, returns the vehicle at 12:30pm instead of 11:30am. In this case, apart from the late return fee, there will be these other consequences:
Additional rental day charge. Since a new 24-hour period has started and the two-grace hours have been exceeded.
The daily rate will be recalculated. The daily rate changes depending on the number of total rental days. Therefore, adding an extra rental day can modify the daily price of the previous rental days.
In this case, regardless the customer had stated he/she was going to return the vehicle at 12pm, he would face the same consequences because he/she exceeded the two-grace hours.
We would like to stress that the late return fee we mentioned above is a daily charge, so the customer will be charge 40 Euros for every rental day exceeded. Again, always to be taken into account the legal consequences that may arise described earlier.
Modify your booking free of charge
You are always more than welcome to head back to our office to modify your rental agreement. We do suggest you though to always do it when you book your rental or upon rental agreement signing.
Either you book well in advance or not, do remember that booking modifications with Record Go is free of charge if that takes place before you show up at our desks.
We really hope we clarified your doubts about our grace margin. If that is not the case, please do not hesitate to contact us.
Guardar