This post is also available in: Spanish German
When a customer makes a booking through a broker, he is often offered an insurance or cover.
These products are handled by these brokers, not by Record Go. We do offer our customers two covers: The Basic Insurance, included in the rental rate, and the Total Comfort, which provides the customer with better coverage.
It really is not a problem that a customer contracts an insurance policy with a broker, except for one thing that creates misunderstandings: when this happens, the customer does NOT waive an excess fee payment, regardless of the level of coverage of this insurance or cover. The only way to waive the excess fee is by contracting our Total Comfort Cover.
The doubts that arise come from the fact the customers do not understand why they are forced to contract a cover when they have already done so with the broker in order to waive the excess fee payment. This sure has a justification.
Record Go does not doubt at all about the guarantee of those insurance policies in order to cover for the possible damage made to the vehicle, yet any indemnification by damage is strictly between the customer and the insurance policy issuer. Record Go has nothing to do with this commercial interaction. As a matter of fact, when a customer has an insurance policy contracted with a broker and damage to the vehicle occurs, he/she is charged by us since our contractual relationship is with the customer, as per our terms and conditions.
We do need to protect our fleet the same way we do with the rest of our customers: either from the excess fee or from contracting our Total Comfort Cover by the customer.
This issue is well described in our terms and conditions, which are also found in our website, during the booking checkout process (in a table where we describe our coverage). Of course this information is also contained in the rental agreement signed by the customer at our desks. However, we keep highlighting it because is likely to create misunderstandings with our customers.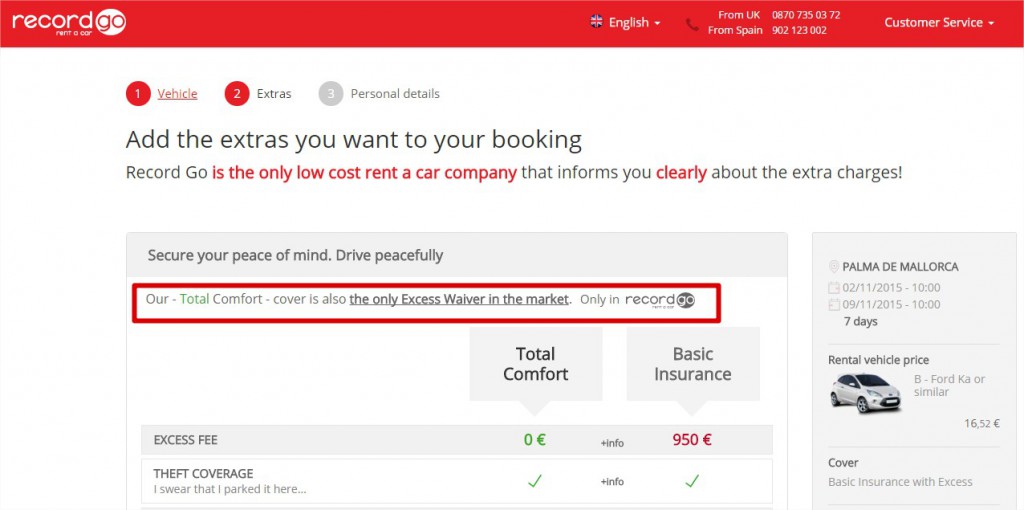 What exactly does our Total Comfort cover?
Apart from waiving the excess fee payment (it is automatically removed with this product), our Total Comfort also covers you for the following negligence cases:
Loss or damage to the keys
Fueling error
Damage to the undercarriage
Damage to windshields
Damage to wheels and tires
Tow truck service
Damage to clutch
Rearview mirrors
Loss or damage to the antenna
Battery
Hopefully, none of this happens, yet it can happen, that is why it is convenient to be fully protected so that you can enjoy your vacation time to the fullest. Besides, by contracting the Total Comfort Cover, you will have breakdown assistance service included just in case you incur one of the negligence cases listed above.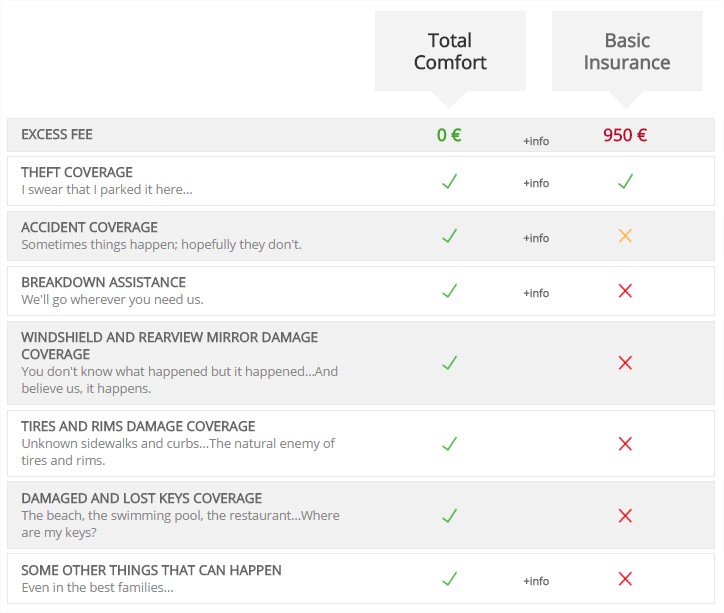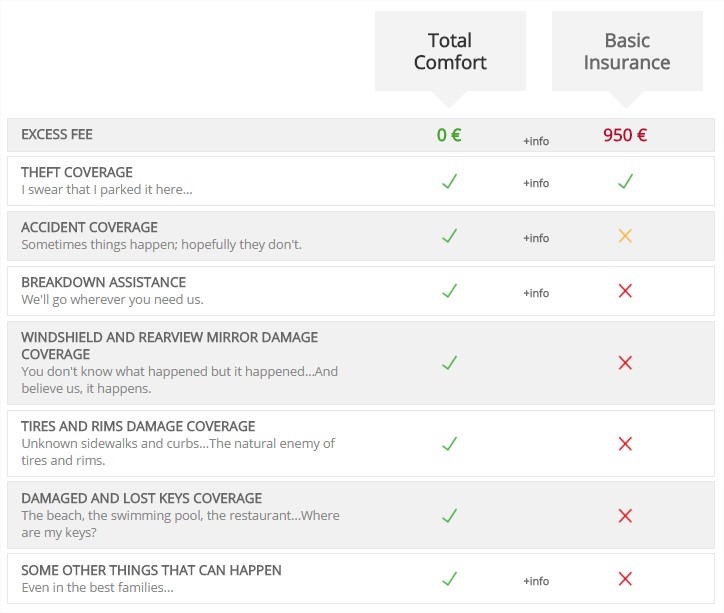 So, make no mistake: Cover your peace of mind and drive safely by contracting our Total Comfort Cover.