This post is also available in: Spanish German
The Jaguar F-Pace was the great winner at World Car Awards 2017, event held in New York City at the International New York Auto Show. The Jaguar F-Pace was awarded with the "Car of the year" and "Design of the year".
Only two vehicles, apart from this model from Jaguar, have won twice this award—with both awards. Including this award, the Jaguar F-Pace accumulates a total of 34 awards.
The jury at the 2017 World Car Awards was formed by as many as 72 journalists from the automobile scene from over 24 countries.
Would you like to enjoy the experience of driving the world's best vehicle? At Record Go we give provide you with the opportunity thanks to our Exclusive Go fleet, which is a luxury car hire brand in Palma de Mallorca.

We really cannot hide our joy for this award. The Jaguar F-Pace belongs to our Exclusive Go fleet since the launch of our luxury brand. This award allows us to confirm that it is nothing but a success to have it in our roster; also this acknowledges our commitment to serve a premium selection of vehicles.
Every reason to be chosen the world's best vehicle of the year
The Jaguar F-Pace fits within the type of vehicles known as SUV's (short for Sports Utility Vehicle).
The F-Pace is high-performance vehicle that adapts to every terrain and necessity. It offers a sports drive without renouncing to efficiency, ideal for the lovers of driving. At the same time, this is a tremendously versatile for a family road trip, thanks to the functionality and efficiency needed for the everyday use.
All of this happens without overlooking the aesthetics; actually it is the other way around since its beauty made it worth the "Design of the year" awards at 2017 World Car Awards.  A very powerful image inspired on the sportive F-Type, which sets it apart from other cars in the category.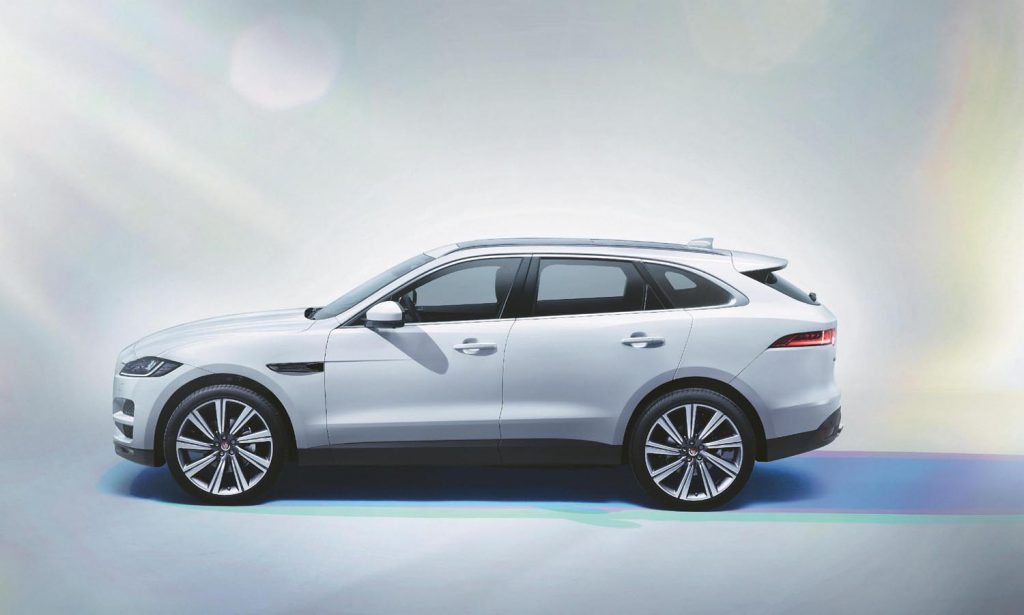 Hire a Jaguar F-Pace with Exclusive Go in Mallorca
The Jaguar F-Pace belongs to the fleet of hire luxury of Exclusive Go in Palma de Mallorca. To be specific, the 2.0 180-horse power model, with automatic transmission and a fuel economy of up to 5,1 l/100 km and a C02 emission of 120 g/km.
Enjoy the 2017's best car of the year driving experience with our amazing conditions:
Full-Full flexible: no handling fee. You will be provided with a full tank of fuel and it is up to you how you want to return it. You will be reimbursed with the unused amount of fuel.
VIP office: there is an exclusive lounge service waiting for you; a perfect spot to sit back and relax, have a snack while you are checked in. Enjoy the VIP experience and get ready to drive your dream car.
Free additional driver.
Unlimited mileage rate