This post is also available in: Spanish German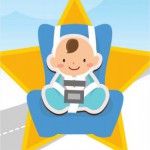 Starting October 1st, a new regulation on child seats was implemented: all children with a height of less than 135 centimeters will be required to be seated in the vehicle's back seats with the corresponding child restraint system (child seat and booster seats, so to speak). This means, children may not be place in the front seats, as they recently were.
According to the Traffic and Road Safety Law, the vehicle could be immobilized in the event children are not correctly seated.
The reason for this is that the back seats of a vehicle are safer since injuries are less frequent in case of accident.
There are three exceptions to the regulation:
When the motor vehicle does not have back seats such as two-seater vehicles or vans.
When a child seat/booster seat cannot be installed in the back seat of the vehicle.
When the back seats are occupied by other children in the same situation.
Golden rules for child seats
Be sure to always use the retention system, from the pregnancy, since your very first trip to the hospital and up until the child is at least 135 centimeters tall, although it is advisable for the child to use a seat with a backrest until the child is 150 centimeters tall before the child uses the seat belt.
Be sure to install the seat in rear facing position for as long as you can. This is because, in the event of head-on collision, the seat will cover the whole child body and will minimize both neck and back injuries.
Be sure to always use the child restraint system adequate to the child's height and weight.
Be sure to always verify that the seat is properly secured to the vehicle and that the child is seated and fixed correctly.
Be extremely careful in the short drives! This is the biggest number of accidents occur, as well as badly-secured restraint systems.
Set an example and always fasten your seat belt.
It is to be taken into account that, according to the data from the DGT (Dirección General de Tráfico-Spanish Traffic Authority), using the children restraint systems reduce 75 % of the deaths and 90 % of the injuries in the event of an accident.
Child seats of Record Go
In Record Go we do offer two children restraint systems, available for every booking.
Child seat (9-18 kg approved seats 9140)
Booster seats (18-36 kg approved seats ISO 9200)
For further information you may consult the General Guide for Child Restraint Systems of the Dirección General de Tráfico (DGT).
Guardar