This post is also available in: Spanish Portuguese
Do you fancy a holiday full of spectacular coves, beaches where you'll want to stay and live, charming villages, colourful natural landscapes and mouth-watering local cuisine? Then we recommend that you think about taking a trip through Algarve. Take a look at our…  
Guided plan for your 7-day driving route through Algarve. 
Day 1 of your Algarve trip. Once you've picked up your hire car in Lisbon, heading to Lagos is a great way to start your journey in style. Its historic centre, its buildings with so much rich history, its Central Market and, above all, watching the sunset from Ponta de Piedade is highly recommended.

 
Day 2 of the Algarve tour. If you enjoy the sunset in Lagos on the first day, it wouldn't hurt to get up early so you can watch the sunrise on some of these beaches: Praia Batata, praia dos Estudantes, or praia de Dona Ana. Without a doubt, apart from being able to enjoy the ferocious waters of the Atlantic Ocean, the landscapes of these beaches are what will attract your attention the most. Mountains of rock that, through erosion over time, have been transformed into tunnels, caverns and incredible landscapes.

 
Day 3 towards Algarve. The highlight of the third day is Praia do Camilo with its steep cliffs and beach with crystal clear waters for swimming. And if you are surf lover, or you want to enjoy surfing, then the Sagres area is an essential stop. To finish the third day of your holiday in Portugal, you must see the sunset at Cape St. Vincent.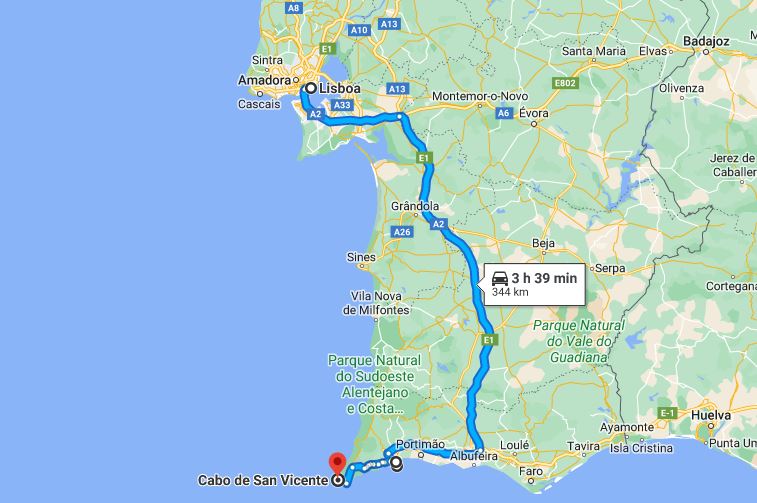 Continue your holiday in Algarve: second half of the Algarve route
Day 4 of your Algarve trip. We start in Ferragudo, a charming fishing village. Next, you can visit Castelo de São João do Arade, a castle right in the middle of Praia Grande. And later, if you visit the town of Silves, you can eat its tasty and traditional monkfish rice.

 
Day 5 of the Algarve route. We arrive in Praia de Albandeira: an essential stop on your holiday in Algarve. Without doubt, swimming in its clear waters is an indescribable pleasure, but it also has a spectacular landscape with a nearby beach: Praia da Estaquinha. And while you are in the area, the church of Nossa Senhora da Rocha, located in the middle of the seashore, is also a very interesting visit.

 
Day 6 in Algarve will take us to one of the best beaches in the region: Praia da Marinha (listed in the Michelin Guide as one of the most beautiful beaches in Europe and the world). It is also essential to visit another of the most anticipated, photographed and Instagrammable places on our route: the Benagil Cave. There you can do some aquatic activities: snorkelling, boat tours, kayak excursions, etc.

 
Day 7. The last day of our tour through Algarve, where we will visit beautiful cities such as Faro, the capital of Algarve, with its walls, narrow streets and harbour; as well as the historical buildings of another village that is also worth discovering: Tavira.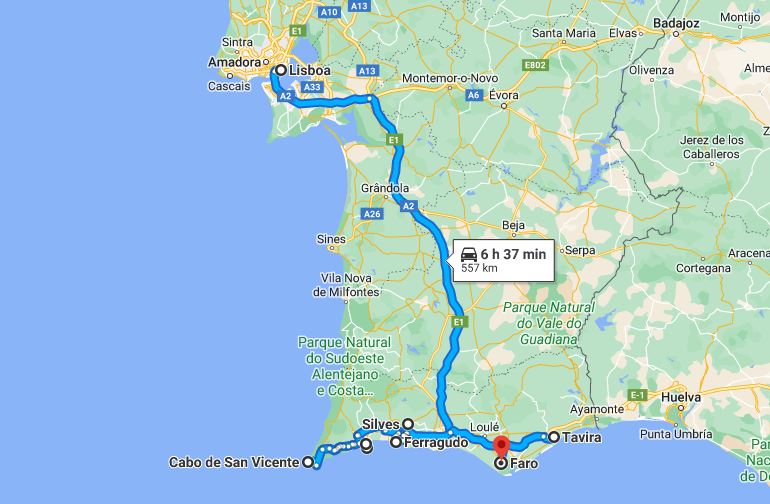 And, from here, if you have more days left of your holiday, you can continue to enjoy the Algarve region and go on more trips on Portugal's most famous coastline. If you're still longing for more beaches, discover Costa da Caparica and Lisbon's best beaches. And don't forget to discover and enjoy the flavours of Portuguese cuisine. If you liked this article from our blog about Algarve, take a look at the best restaurants in Lisbon and get ready for your summer holidays in Portugal.