If you're thinking about a weekend getaway to Barcelona, ​​you've come to the right place! Here are some suggestions for places to visit within the city, and lots more things you can do on your three-day trip to Barcelona. In addition, on our website you'll find exclusive discounts for hiring a car, both in Sants Station and next to Barcelona-El Prat Josep Tarradellas Airport. Keep reading!
Barcelona's unique identity and essence makes it is one of the destinations par excellence for all tourists, whether national or international. It attracts millions of tourists a year, who return home with a piece of Barcelona in their hearts, and besides being authentic, Barcelona is a very complete city, so here are sometips for you to get to know and enjoy Barcelona to the fullest in 3 days, and come away with the fondest of memories. Ready? Ready? Begin our guide!:
Places of interest in Barcelona.
Great works by Gaudí.
What else to visit during your 3-day trip to Barcelona.
Where to eat in Barcelona.
Places of interest in Barcelona. 
Escaping to Barcelona involves understanding that there are certain stops that are compulsory on your trip: great monuments, history and identity. Therefore here's a summary of the most outstanding ones, so you can start planning your short but wonderful trip:
Santa Creu Cathedral 
This is Barcelona's well-known Gothic Cathedral, ​​seat of the Archbishopric in Catalonia. One of the most beautiful cathedrals in Spain, with a lot of history.
The cathedral is open to the public from Monday to Friday between 8:30 a.m. and 12:30 a.m., and from 5:45 p.m. to 7:30 p.m. And Saturdays, Sundays and public holidays from 8:30 a.m. to 12:30 p.m. and from 5:15 p.m. to 8:00 p.m. And moreover, visiting is free!
Don't miss the opportunity to visit one of the city's signs of identity on your 3-day trip to Barcelona!
Castle of Montjuic 
The best views of the city are those offered by the Castle of Montjuic – 173 metres high – a totally different way of discovering the city, and one that always leaves all its visitors speechless. Are you going to risk missing out on it?
You can visit it every day of the week from 10:00 a.m. to 6:00 p.m., and moreover, the price of the ticket is only 5 € — with the reduced price at 3 € and children with free admission. Also, if you plan things well, and you can visit it on Sunday, access is free after 3pm! And if it coincides with the first Sunday of the month, the entrance is free all day.
See what we mean? The city makes it easy for you on your 3-day trip to Barcelona!
Discover one of the city's most beautiful vantage points and soak up the history of Barcelona.
Palau de la Música 
Barcelona's Palau de la Música, which was declared a National Monument in 1971, is an impressive building – both inside and outside. Inside you will discover a striking concert hall that is sure to impress.
It is the venue that has hosted more artists and great musicians than any other in Barcelona; ​​the cradle of great concerts, operas, zarzuelas and all forms of art linked to music.
On your 3-day trip to Barcelona you can explore its interior and discover its history thanks to the guided tours that can be joined every day from 10:00 a.m. to 3:30 p.m., with an admission cost of 20 € per adult and free for children. That said, if you have the opportunity, we recommend that you don't settle for just the guided tour, because the Palau de la Música in Barcelona is a place to discover when it's in full activity. Find out about the concert programme and enjoy it in all its essence, with a wonderful show and the Palau itself giving you a thrilling experience.
Palau de Pedralbes 
Being in the past an estate of medieval origin, and residence of the Spanish Crown between 1919 and 1934, this land caught the attention of the Güell family who acquired it, converting it into what it is today: a beautiful stately building surrounded by gardens .
Discovering The Palau de Pedralbes is a must on your 3-day trip to Barcelona. But why? Because we're absolutely sure you're going to love it!
Visit it from Tuesday to Friday between 10:00 am and 2:00 pm, and on Saturdays and Sundays between 10:00 am and 5:00 pm, and you'll see we're right. Of course, we want you to tell us all about it when you come back!
You can buy tickets for 5 €, and 3.50 € at the reduced rate, and children under 16 have free admission.
Palau de Sant Jordi 
The Palau de Sant Jordi is one of the emblematic places in the city of Barcelona for having hosted the Olympic Games there in 1992, and the Paralympic Games in the same year.
Be sure not to miss it!
Great works by Antoni Gaudí. 
It's always said and affirmed that Barcelona is a city with its own identity and a great deal of colour. This is thanks to its local artist Antoni Gaudí, who adorned the city with constructions that are more than creative, full of colour, fantasy and life; works that, with the passage of time, have made Barcelona a unique city. Which is why the guide for your 3-day trip to Barcelona  wouldn't be complete without visits to Gaudí's great works.
Sagrada Familia 
This is Barcelona's most well-known monument internationally. A masterpiece by the artist architect Antoni Gaudí which was nothing if not ambitious. After many years, work on the Sagrada Familia Cathedral has yet to be completed, due to the complexity of its architecture. After Gaudí's death, new architects have been involved in the construction of this majestic architectural and artistic gem, remaining faithful to the original idea of finishing the construction of what is and will be Antoni Gaudí's most majestic work, and one of the highest and most impressive in the world, at 172.5 metres.
You can access it, with guided tours -or by yourself – from 9:00 a.m. to 6:00 p.m. every day of the week. We recommend that you choose to take the guided tour – for 17 € — as it will explain all the curiosities about Antoni Gaudí's great work.
Casa Batlló 
Declared a World Heritage Site by UNESCO, it's another of Barcelona's icons at an international level and another of Gaudí's works that every traveller wants to visit.
A beautiful house, with wonderful curves, that transports you to a fantasy land. One of the cultural and tourist attractions that draws 1 million visitors a year. Incredible right?
Its doors are open every day of the year from 9:00 am to 9:00 pm (last access at 8:00 pm). Are you going to miss out on it?
Casa Vicens 
First work by the artist Antoni Gaudí. It was declared a World Heritage Site by UNESCO in 2005.
This work from the artist's early period already hinted at the architect's artistic line, since it is inspired by the vegetation of the surroundings. Get to know it any day of the week from 10:00 am to 8:00 pm (admission 12 €). A perfect stopping point on your 3-day trip to Barcelona!
Casa Milà, ¨La Pedrera¨ 
Known popularly as 'La Pedrera', La Casa Milà is part of the architectural ensemble that Gaudí left to Barcelona as his legacy.. It is a Modernist building that the artist built between 1906 and 1910.
Since it opened its doors to the public, in 1987, the house has received more than 20 million visits. Don't believe us?
La Pedrera is waiting for you from Monday to Sunday between 9:00 a.m. and 8:30 p.m. (tickets on line for 22 €, and at the  ticket office for 25 €).
Parc Güell 
In the middle of Monte Carmelo we find one of the most impressive and innovative works of the architect and artist Antoni Gaudí; Parc  Güell. An impressive park full of vegetation, small buildings and rest areas that constitute the purest reflection of his identity. The artistic style of the 'trencadís' mosaic, together with the constructions full of fanciful curves, transport us to another world, another space and another time; one that never existed, and that is nevertheless 100% real and authentic.
This wonderful work was declared a World Heritage Site and is recognised today as reflecting Gaudí's moment of artistic fulfilment.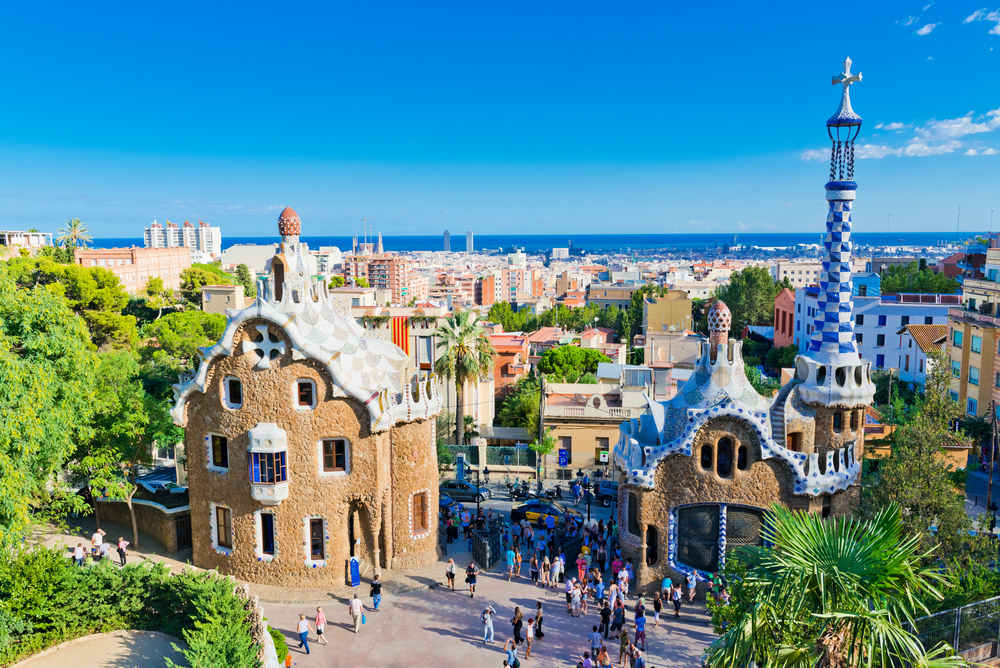 What else to visit during your 3-day trip to Barcelona. 
If we continue adding things you mustn't miss on your 3-day visit to Barcelona, we find:
The Picasso Museum 
Cradle of the works by the famous painter, inaugurated in 1963. It includes the works of 1917, and also the Las Meninas series of 1957 plus a large collection of engravings.
The visiting hours are
Mondays from 10:00 am to 5:00 pm. And from Tuesday to Sunday from 9:00 am to 8:30 pm (except Thursdays, from 9:00 am to 9:30 pm).
The general admission price is 12 €/person.
MACBA 
Barcelona Museum of Contemporary Art. Home to great works of contemporary art, including all those created from the mid-twentieth century onwards. It opened its doors to the public in 1995, and since then has become a benchmark for contemporary art in the city and also nationally.
The visiting hours are
Weekdays from 11:00 a.m. to 7:30 p.m. (closed Tuesday). And on Saturdays from 10:00 a.m. to 8:00 p.m. Sundays and public holidays from 10:00 a.m. to 3:00 p.m.
Where to eat in Barcelona 
Visiting any part of Spain means discovering its cuisine. One of the country's great riches is the many micro cultures that make it up, and this has a lot to do with gastronomy. In this respect Barcelona gets top marks!
In Barcelona you'll eat well — really well! When you decide to take a break from sightseeing and want to grab a bite with a cold beer, we recommend heading for the neighbourhoods of: Poble Sec, Sants, la  Boquería and Barceloneta, and get to know some of their most typical bars:
One of the top neighbourhoods in which to enjoy good tapas. Some of the bars we recommend for you are:
Quimet i Quimet
A small long-standing wine cellar inaugurated in 1914. They serve great tapas and creative sandwiches, made above all based on gourmet preserves
Cañota, casa de tapes
A seafood tapas bar and one of the Galician restaurants with the best reputation in Barcelona. Delight your senses with Galician patatas bravas, potato salad with trout roe, etc.
Koska Taverna
A Basque tapas bar where you can enjoy some elaborate brochettes, which combine Basque and Catalan cuisine. It's one of the best places to enjoy a good vermouth and wine.
El Blai
Also known for its tapas, its beer and its wines, this is one of the star bars in every edition of the tapas route in Barcelona.
La Mundana
In La Mundana you can try dishes and tapas with Mediterranean, Japanese and French touches. The speciality of the house is patatas bravas, which are literally TWO patatas bravas. Yes, because they're prepared in an ingot format so you can cut them into pieces. Undoubtedly authentic and delicious bravas, bathed in smoked garlic oil sauce and spicy sauce.
Cachaca
La Cachaca is a beautiful and very cosy place where you can try everything from great Italian cheeses and sausages to all kinds of fresh pasta, and other Italian cuisine, including homemade desserts.
The Mercat de Sant Josep, known popularly as La Boquería, is a municipal market located on Barcelona's Rambla. In addition to being a place where you can buy all kinds of fresh products, it is also a prominent tourist attraction in the city of Barcelona.
Close to it, on your 3-day trip to Barcelona, ​​you'll find quality restaurants that specialise in a wide range of dishes, including:
El Pinotxo: with chickpeas as its main speciality.
El Kiosc: which serves a magnificent fish and seafood grill.
El Clements: with great tapas and superb dishes.
Paella bar: which, as its name suggests, specialises in paella. Probably the best paella in Barcelona!.
Casa Guinart: a classic restaurant with a wide variety of tapas and portions.
And also places for vegetarians, such as YangoUrban Food.
Near this market we should highlight other restaurants such as:
MazahA restaurant with Middle Eastern, Lebanese and Mediterranean cuisine.
The bar Central Boquería with very good and varied tapas.
And Les Cuines de Santa Caterina: a modern restaurant that has a great selection of dishes to suit all tastes, from Mediterranean food, to vegan food, international dishes and many more.
So, are you ready for your 3-day trip to Barcelona? Need to hire a car to have more flexibility during your getaway? Visit our website and take a look at our deals.
Go for it! One of the most beautiful cities in Spain is waiting to welcome you.
+ Enjoy your trip through Spain and Portugal: