Directions for picking up your rental vehicle at Valencia - Joaquín Sorolla station with Record go
Directions to the Record go office from Valencia - Joaquín Sorolla station
Exit through the main door of the Joaquín Sorolla Station.
Turn left and head towards the pedestrian crossing near the end of the pavement.
Cross the first pedestrian crossing, pass through the garden area and then cross a second pedestrian crossing.
Once you reach the pavement, turn left immediately, crossing a third pedestrian crossing.
Continue straight on along Calle San Vicente Mártir.
The Record go office is at number 170.
Instructions for obtaining your rental contract and the keys to your vehicle
Go to the counter in the office. You will be given your rental contract and the keys to your vehicle
Just Go Box customers only
Once you arrive at our office, go to one of our Just Go Boxes (self-service kiosks) and follow the instructions that appear on the screen.
Then go to the counter to pick up the keys for your vehicle.
Directions from the office to the car park
Exit the office and, just a few metres to the left, you will find the entrance door to the car park where your rental car is located.
Enter the car park, continue straight ahead and you will reach the area where the Record go vehicles are located.
Find the parking space for your vehicle.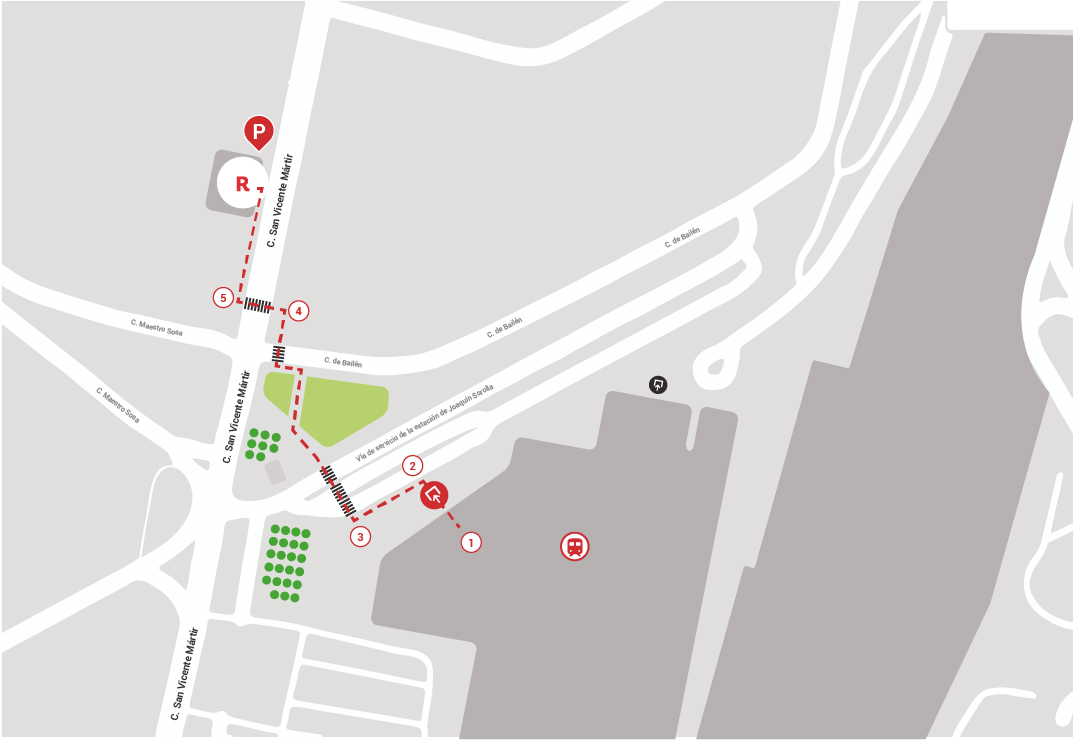 Directions for returning your rental vehicle at Valencia - Joaquín Sorolla train station with Record go
Directions to the Record go car park
Enter the car park and park the vehicle in one of the drop-off spaces for Record go. These spaces are coloured red.
Once the vehicle is parked, go to the Record go's main office and hand in the vehicle key to properly identified Record go staff only.