This post is also available in: Spanish German
1. Restaurant Roca Mar (Peñíscola)
Calle Porteta, 3. 12598 Peñíscola. Telephone: +34 964 48 06 21. Website: www.restauranterocamar.es
This restaurant has a privileged location, at the very foot of the Castle of Peniscola, by the sea shore. This is an iconic restaurant that offers fresh seafood straight from the fish market; also delicious fish, rice and fideua dishes. This is your typical family-owned restaurant that opened its doors back in 1962—one of the very first restaurants in the village of Peniscola.
The restaurant offers a menu that connects tradition and modern food; the local has some privileges views overlooking the Mediterranean Sea. Where can you enjoy a seafood rice with lobster or black rice with cuttlefish 'a la puntxa'?

2. Restaurant Mediterráneo (El Grao de Castellón)
Paseo Buenavista, 46. 12100 Grao de Castellón. Telephone: +34 964 28 46 09.
If you want to eat delicious rice 'a banda' (to the side in English), there is no doubt about it, this sure is your place. The rice 'a banda' is a seafaring recipe that uses the fish stock (traditionally trash fish) to make a potato stew broth. The rice is cooked separately, hence 'a banda' (to the side). Usually, the restaurants just serve the rice but at the Restaurant Mediterraneo, you get the whole thing, namely, the fish, the potatoes with all i oli (garlic mayonnaise) and the very rice.
If you order rice 'a banda', be aware that it is quite abundant, so we suggest you not to overdo with the delicious appetizers they serve, namely season appetizers and bread with all I oli. Nonetheless, we do suggest you to try the 'sepionet' (cuttlefish) and vegetable tempura—you really do not want to miss it.
This is also a family-owned business that started as a tavern and became, after four generations, if we are not mistaken) the restaurant that is today. Not only the food is crazy good, the service is outstanding too.

3. Taberna Marinera (Castellón de la Plana)
Calle Doctor Fleming, 24. 12005 Castellón de la Plana. Telephone: +34 964 03 58 31.
Located in downtown Castellon, this is an 'arroceria' (restaurant specialized in rice) that stands out for its value for money. Rices and amazing raw materials at a very competitive price is their trademark. The creamy rice with lobster is just spectacular, yet, we are telling you that, no matter what you order, you will be astonished–honorable mention to the fideua, of course.
In its menu, as the very restaurant name suggests, the seafood stands out significantly—all fresh products. We strongly suggest the charcoal octopus and all i oli.
The restaurant itself does not look too fancy and it would not call your attention at all, but make no mistake, the food is second to none.
4. El Morro (Burriana)
Escollera de Poniente, s/n. 12530 Burriana. Telephone: +34 964 58 59 96. Website: elmorro.es
At the foot of the lighthouse and at the western breakwater in Burriana, it is located this restaurant named El Morro, for the last 50 years. Its location makes its jaw-dropping views, surrounded completely by the sea, the perfect complement to the food. Fresh fish and seafood from the fish market and great rice dishes is what is waiting for you.

5. Restaurante La Llar (Benicasim)
Calle Santa Agueda, 9. 12560 Castellón de la Plana. Telephone: +34 964 30 55 59. Website: www.lallarrestaurante.com
This is an excellent place to eat paella made with log fire at a very reasonable price. This is a a family-owned business with over 25 years of history. We truly suggest you the Valencian paella or the seafood paella, but just make sure you leave some room for the some of their homemade desserts. They actually do not have a wide menu, which does not have to be something bad at all, yet we would say it stands out their meats and salads, with their fresh products.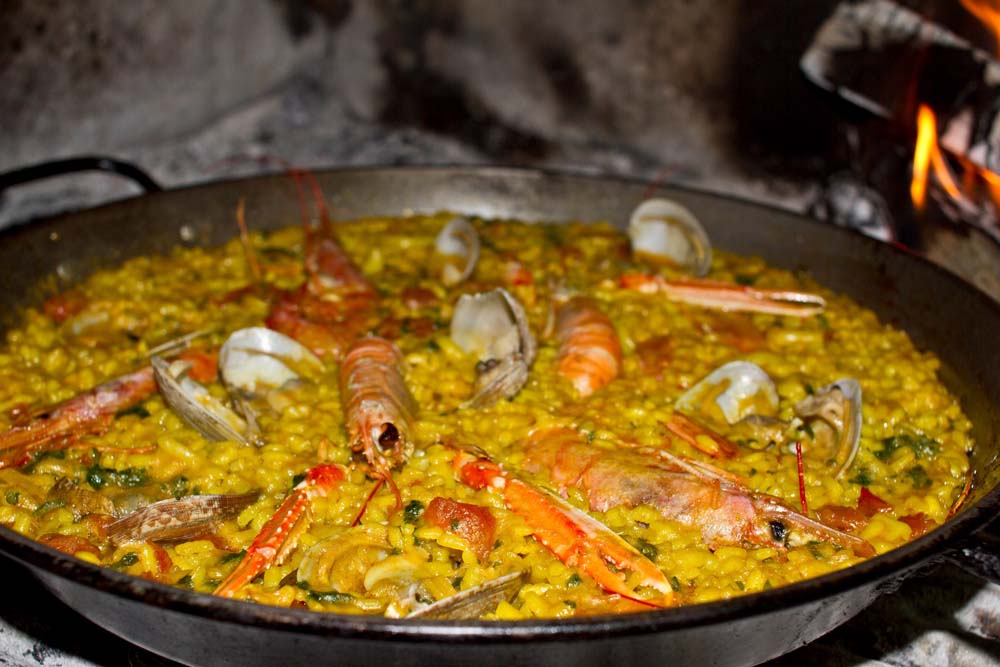 6. Mesón Ximo (Alcocebre)
Calle El Barquero, 8 , 10 (Mare Nostrum-Ascenso). 12579 Alcocebre. Telephone: +34 964 41 44 12.
The restaurant is very well located, right in the heart of the town, just a few meters away from the beach. It really is decorated with a discreet touch and stands out for the quality of the food—we are telling you that the place is jam packed.
Although you can random pick from its menu, we suggest you to stick to their daily menus. These daily menus are pretty cheap and have lots of options, both for the first course and the main one.
If we had to choose, we would get the 'paella del meson', with its snails, ribs and vegetables.
7. Puerta del Sol (Oropesa del Mar)
Paseo Marítimo de la Concha, 14. 12594 Oropesa del Mar. Telephone: +34 964 31 37 96. Website: restaurantepuertadelsol.com
This restaurant with a magnificent location overlooking the Playa de la Concha of Oropesa, where the main character here are the rice dishes—with a large assortment, both the dry and the creamy dishes, with fresh products and of premium quality. It is worth enjoying the tapas and small plates. Along with the classic one, you can also find some interesting bites—just a spectacle for your palate. Let us inform you that the service is very nice, which is always very appreciated.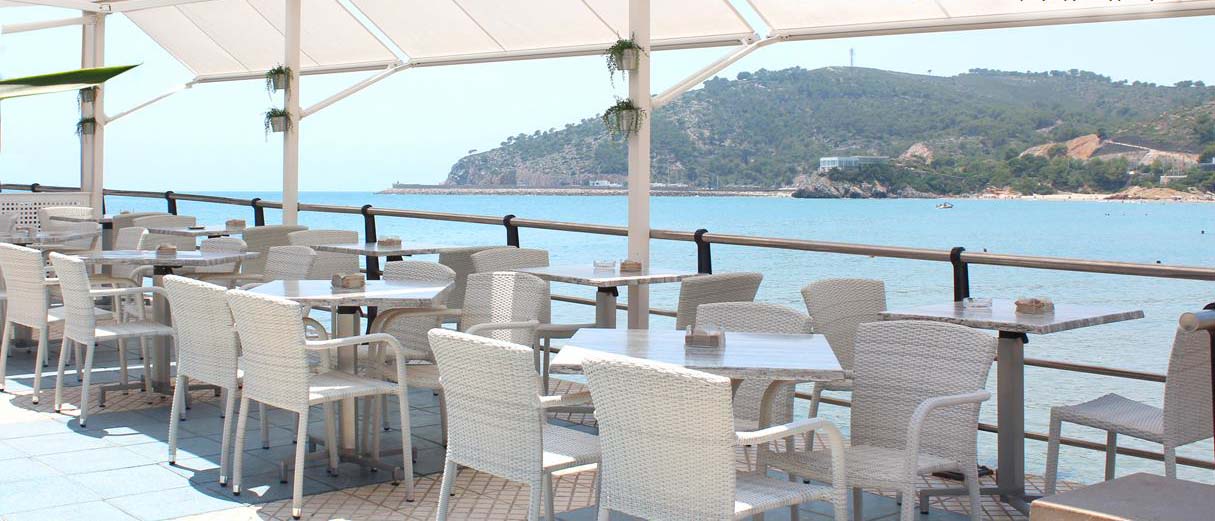 8. Hotel Voramar (Benicasim)
Paseo Marítimo Pilar Coloma, 1. 12560 Benicàssim. Telephone: +34 964 300 150. Website: www.voramar.net
This is a three-star hotel and restaurant located in a privileged place: built right on top of the beach sand, at the very last Benicassim beach; just a few meters before the start of the Via Verde (Green Trail) that connects Benicassim with Oropesa, leading to the end of the villas route, a promenade characterized by the architecture of the late 19th century and beginning of the 20th century.
As a restaurant, it offers two options: the bar in the basement offers your typical bar drinks, tapas, small bites and sandwiches—something more casual. The bar in the top floor is more of a restaurant, with some spectacular views and a large rice dishes variety.
The owners do have another restaurant named Torreon. It is located also in Benicassim and it is located right in front of the sea, just in front of the Tower of San Vicente. Here, you will be able to find some quality rice dishes at more competitive prices. From Torreon, we would like to suggest you the varied and plentiful breakfasts. What could be better than an English breakfast while feeling the breeze from the sea? After that, full of energies, you are ready to walk around the Via Verde.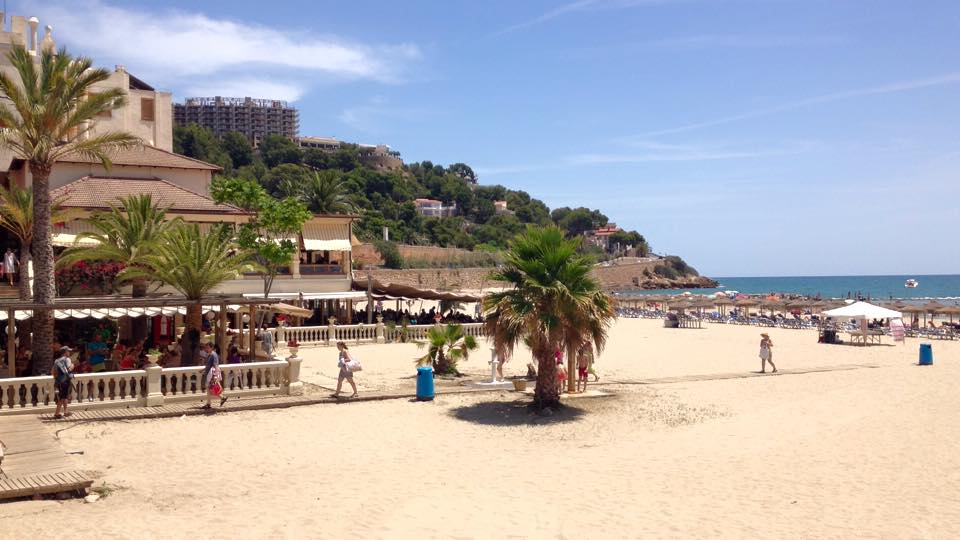 9. Rústico Restaurante (Castellón de la Plana)
Avenida de de Casalduch, 28. 12005 Castelló de la Plana. Telephone: +34 964 26 96 03. Website: rusticorestaurante.com
Just like they define themselves in their website, 'at Rustico, we converge a cuisine that, not giving up on their Mediterranean essence; they merge the traditional and the evolution, with the quality of the products as their trademark'. It is located close to Downtown Castellon but all throughout the summertime of 2016 has served its food at Ocean Club. This is business is located at the Grao of Castellon and, since it is at an elevated position, it offers some privileged views overlooking the port.
We suggest you at this place the paella from Castellon, which is very similar to the Valencian but there are a few ingredients characteristic from the area, namely artichokes and ribs.

10. Restaurante J. Zamora (El Grao de Castellón)
Muelle de Costa s/n. 12100 Grao de Castellón. Telephone: +34 964 284 584. Website: www.restaurantejzamora.com
This is a quite big restaurant in the Grao of Castellon, nearby the Casino, that offers a wide assortment of dishes every single day of the week, including the weekends and holidays. Besides, the menu includes, at least, a rice dish in its menu.
The weekday menu has a price of 12 €, 15 € on Saturdays and 18 € on Sundays and holidays (8,50 € for children, with a playground). If you want to play on the safe side, on Tuesdays and Fridays, they offer lobster paella and on Sundays they offer the lobster paella and the Valencian paella.