This post is also available in: Spanish German
Portugal is the perfect destination for a summer holiday trip. A country where you can find the summer holiday that best suits you: popular beaches to be enjoyed with family and friends; coves, sun and beach in places that are practically untouched and surrounded by nature; city tourism for soaking up authentic Portuguese culture and a unique opportunity to sample the region's delicious cuisine. 
If you arrive by plane, the best way to get around the area you prefer is to rent a car in Portugal. Car rental has advantages that no public transport can offer, for example. This way you have the freedom and flexibility to travel around Portugal by car with whoever you want and at your own pace, giving you the most comfortable way to spend your summer holiday in Portugal. 
If this is you and you land in the country having arrived at the Humberto Delgado Airport, also known as Lisbon Airport or Portela Airport, car hire from the airport in Lisbon is the perfect choice, ensuring that you don't lose a single minute. 
Similarly, one of the other common ways of first entering Portugal is by arriving at the Francisco Sá Carneiro de Oporto Airport, also known as Oporto Airport or Pedras Rubras Airport. Here too, with Record go car rental you can book your car rental in Oporto airport with the best discounts, ensuring you not only have the cheapest price, but also ensuring that your car is most like what you are looking for and what you need for your holiday trip. 
And once you choose your holiday destination in Portugal… These are some of the most beautiful places to discover on your summer trip. 
Discover Portugal on your summer holiday: 4 destinations and driving routes 
Summer holidays in Lisbon city, Sintra, Cascais and Estoril
Travelling around Lisbon by car makes it easier to discover those essential spots and places, both in the city itself and in the province. Surely the most frequently visited place is Sintra. 
Sintra is a town that's very popular because of its many palaces, villas, monuments and castles. So, having your own vehicle for getting around all the sites will give you both comfort and freedom. Don't miss out on this description where we tell you what to see in Sintra. 
The next point on the route is full of the most private, spectacular touristic beaches as well as historical sites in the middle of the countryside. We're talking about Cascais! 
And to cap off this route around the outskirts of Lisbon: Estoril, known as the "Portuguese Riviera", one of the most treasured coastal areas in the region. Your holiday in Estoril will include times of relaxing on the Tamariz beach, right by the Casino and the famous Chalet Barros, and times in which you can eat in any of the best restaurants in Lisbon and sample Portuguese cuisine.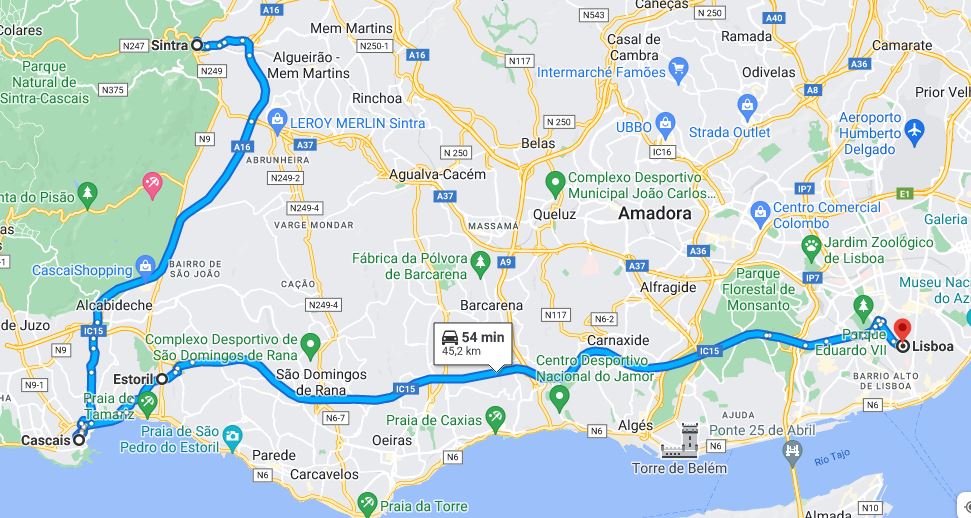 Summer holidays on Lisbon's Costa de Caparica
If you are looking for a holiday trip in Portugal that is mostly about the sun and the beach, and you don't want to go too far from Lisbon, the best option is to travel around the Costa de Caparica. This is 25 kilometres of fine sand where you can enjoy sunbathing, or if you want to enjoy forceful waves, you can go surfing in the Atlantic Ocean. Don't miss our guide on the Costa de Caparica beaches and the best beaches in Lisbon. 
Summer holidays in Oporto, Vila Nova and Braga
Once you have investigated and discovered everything that Porto has to offer, you can start on our travel route around the outskirts and head a little bit north. Once there, you'll be able to enjoy everything there is to see in Braga, a city with an incredible cultural heritage: palaces, historical buildings, cathedrals, etc. 
And, of course, going to Oporto and not visiting any of its fabulous wineries to taste the famous Port Wine would be unacceptable. So this would be one of the various places to visit in Vila Nova de Gaia, the "other half" of Porto. As well as the wineries, you have the Gaia cable car, the Jardim do Morro garden, and outings and tours along the riverbank.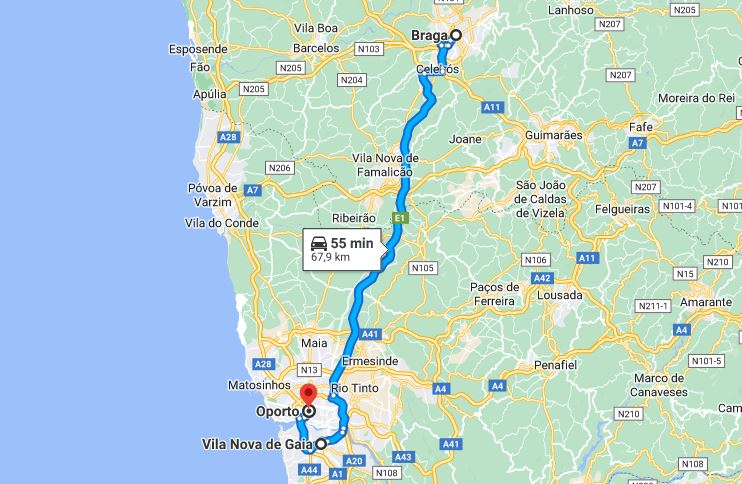 Route through Portugal: Faro and Algarve
Surely this is one of the most beautiful, spectacular areas (or the most beautiful, spectacular area) in the whole of Portugal. If you are someone who dreams about a car journey along the French Riviera or through Tuscan Italy, there is no doubt that a trip through Portugal and a route along the Algarve would be a holiday choice for this summer 2022 that you could really enjoy. Enjoy your journey through Lagos and the sunset in Ponta da Piedade; Praia dos Estudantes or Sagres; Cabo San Vicente, Albufeira, Benagil Cave, or Loulé, Faro and Tavira. 
And if this final option is your preferred summer holiday, have a look at our article: 7-day driving route through the Algarve.