This post is also available in: Spanish
Porto, the jewel of northern Portugal, is famous for its namesake wine, Port wine. With centuries of winemaking tradition and a fascinating history behind every bottle, Porto's wine cellars are a must-see destination for wine lovers and curious travellers.   
In this article we have compiled a tour of six of Porto's best wineries so you can discover the authentic flavour of this unique wine region.  
The best wineries in Porto  
Graham's Port Lodge
One of Porto's most iconic wineries, Graham's Port Lodge offers an exceptional experience for wine lovers. Located in Vila Nova de Gaia, on the opposite bank of the Douro River, this winery has a history dating back to 1820. They offer guided tours that will take you through their old cellar facilities, where you can learn about the process of Port wine making and taste some of their most exquisite varieties.  
Sandeman Cellars
The iconic 'Don' on the label is recognised the world over, and Sandeman Cellars is a must-visit to learn more about the winery and its heritage. They offer tours that take you through the old underground cellars, where you will learn about the history of Port wine and, of course, have the opportunity to taste some of their exceptional wines.  
Taylor's Port Cellars
Founded in 1692, Taylor's is one of the oldest and most respected wineries in Porto. Its impressive building and terrace offer panoramic views of the Douro River and the city of Porto. On a visit to Taylor's Port Cellars, you can explore the cellars and enjoy a tasting of their renowned Port wines, including the famous Vintage Port.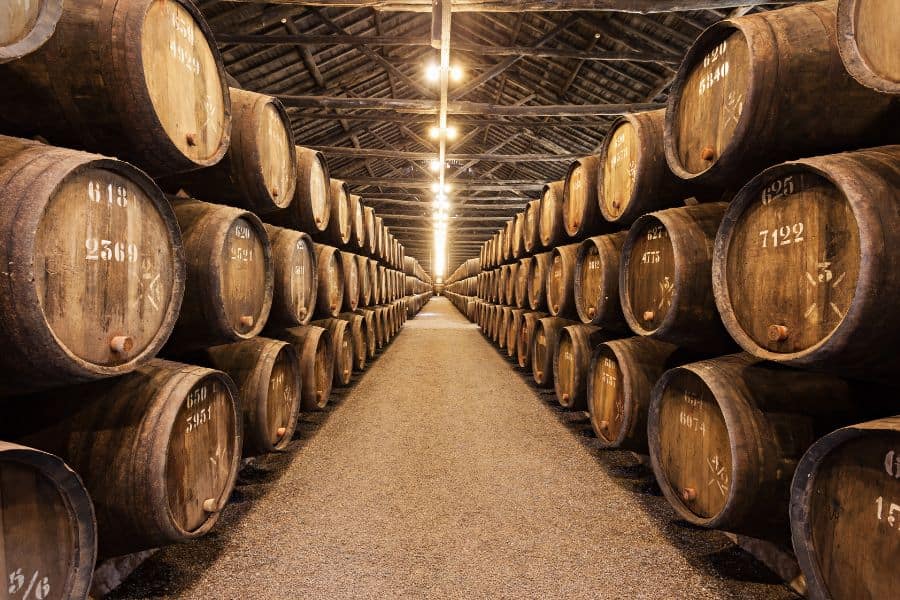 Croft Port
If you're looking for a more intimate experience, Croft Port is an excellent choice. This boutique winery is known for its focus on producing high quality wines. During your visit, you'll have the opportunity to learn in detail about the winemaking process and taste a selection of their Port wines, including their exceptional Tawnies.  
Ferreira Cellars
Ferreira Cellars is another classic Port winery worth visiting. Founded in 1751, this winery has a rich history and an impressive collection of wines. Guided tours will take you through its underground cellars and introduce you to the world of Port wine. The tasting includes a variety of wines that will allow you to appreciate the diversity of this unique drink.  
Ramos Pinto
Ramos Pinto is known for its innovation and modern style of port wine production. During your visit, you can explore their historic cellar and learn about the modern techniques they use to create their wines. The tasting includes a variety of Port wines, from the youngest and freshest to the most aged and complex.  
Exploring the cellars of Porto is a unique experience that will immerse you in the rich winemaking tradition of this region. Whether you are a wine lover or simply interested in learning more about the culture and history of Porto, these cellars will offer you an unforgettable experience. Cheers and enjoy the authentic taste of Porto!  
Would you like to know more interesting things to do in Porto or Portugal? Check out our recommendations: