Directions to Palermo Airport Palermo Airport with Record go
Directions for collecting the vehicle
Directions from the terminal to our courtesy bus
Our office is located next to Palermo Airport.
Once you have landed at Palermo Airport, go to the 1st floor in the departures area.
In front of the central gate is the bus meeting point. This is the meeting point for the shuttle bus (bus number +39 3493573751).
Directions from the office to the car park
Continue on the A29, exit at the Cinisi junction at the first stop, turn left towards Town Hall/Carabinieri Station.
Follow the road, at the next stop sign, turn left, go over the flyover, after about 800m you will find a descent on your left.
You will find your vehicle in the space provided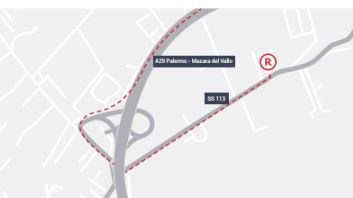 Directions for returning the vehicle
Directions to the Record go office
To return the vehicle, please go to our office following the directions on the map.
OFFICE RECORD GO
SS113, 90045 CINISI PA, ITALY
COORDINATES: 38.17589498281156, 13.1188259513778
NOTE: Returns outside office hours (see the opening hours in point 9 of the General Terms and Conditions). If you return the vehicle outside office hours, please leave the vehicle keys in the car park key box located next to the staircase and leave the parking ticket clearly visible on the dashboard of the vehicle.